Schools devastated by Oklahoma tornado had no safe rooms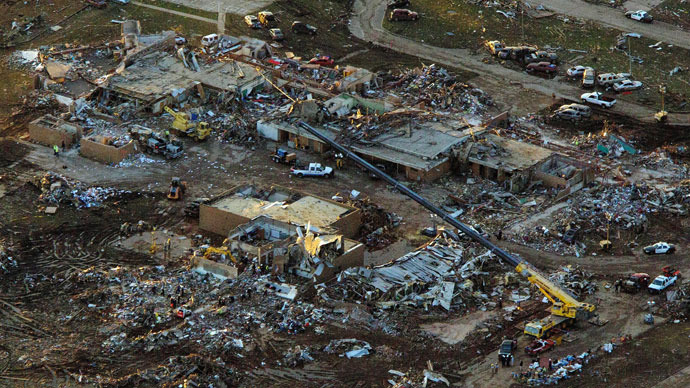 Two Oklahoma schools destroyed by the devastating May 20 tornado lacked "safe room" shelters that cost up to $1 million, but could have potentially saved the lives of children who died in the wreckage.
Two elementary schools were destroyed in the EF-5 twister that killed at least 24 people on Monday and injured hundreds of others. Seven children were found dead in the debris of the Plaza Towers Elementary School in Moore, Okla.
Authorities believe that everyone who was at Briarwood Elementary School survived the deadly tornado, which ravaged the building with 200 mph winds.
"You could just feel the pressure just building like you were in an airplane, just the pressurization of the cabin and your ears popping and the debris starts flying and the roof falling in," Briarwood's first-grade teacher Sheri Bittle told ABC. "And everything in your classroom falling in on you."
Both of the destroyed schools lacked tornado shelters, which would have potentially prevented many of the casualties and fatalities that occurred on May 20. More than 100 Oklahoma schools currently have metal safe rooms, which can be built above ground or underground and sustain winds up to 250 mph.
These rooms may be the difference between life and death in states where the tornado risk is high, but lack of funding to build them has prevented elementary schools like Plaza Towers and Briarwood from constructing shelters of their own.
Retrofitting a school with a safe room shelter costs an estimated $600,000 to $1 million per building, Bloomberg News reports. Albert Ashwood, director of the Oklahoma Department of Emergency, told the news agency that his department can't afford to provide every school with a shelter, but that he is looking into whether the two schools had ever even applied for federal funding to build safe rooms.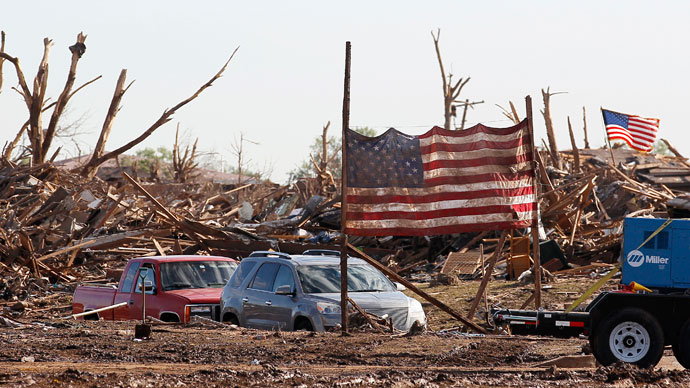 "You have a limited amount of funds," he said. "You set priorities. It's not a matter of they were being left out."
But Oklahoma residents refer to Moore as "Tornado Alley", since the area has been struck by devastating twisters more than any other region in the US. In May 1999, a tornado took a similar path, ravaging Moore, killing 41 people, and costing the US $1 billion in damages.
Some residents believe that safe rooms should be a priority in Oklahoma – particularly in Moore, since it has a history of falling victim to tornadoes.
"If they can afford a $5 million football stadium, they can afford a safe room," 67-year-old John Lemmon, a Moore resident who lives near Plaza Towers Elementary School, told Bloomberg. "They should have done it right after they had the last big one."
While both elementary schools were reduced to rubble, students at Plaza Towers Elementary School were worse off. This traditional school building was constructed with a long line of classrooms that were all under a single roof. When the tornado caused the building to crumble, students were trapped in the wreckage of the structure, and at least seven of them died. 
Briarwood Elementary School was divided into four sections, with several classrooms in each pod. Between these pods were openings that led students outside, which allowed students to escape the collapsing walls and ceilings.
No children died at Briarwood as they escaped the falling debris with backpacks over their heads. But both schools could have ensured the safety of their students if they had metal safe rooms to retreat into during natural disasters.
Now that children have died in the May 20 twister that ravaged Moore, Okla., the Federal Emergency Management Agency may reconsider providing the funding for safe rooms. The city of Moore has long been trying to acquire funds to buy them, and the city in February wrote on its website that FEMA requirements have held them back.
"If you don't have disasters, you don't have additional money for mitigation for safe rooms, but without disasters there's not a set funding source just for safe rooms," FEMA director Craig Fugate told ABC, indicating that changes may only occur when it's too late to reverse the damage.