Snowstorm leaves fifteen dead in the US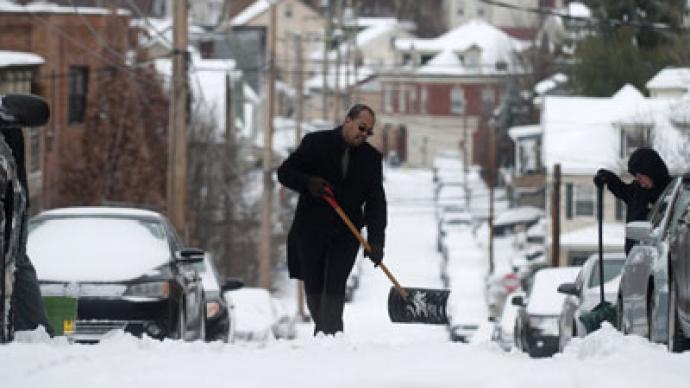 Fifteen people have died in the powerful winter storm that triggered tornadoes in the American South and is now burying the Northeast in snow. With hundreds of flight delays, post-Christmas air travelers still remain stuck at US airports.
Since Tuesday, 15 have died in weather-related incidents across the US, including a 1-year-old and a 2-year-old who were killed in a car accident. While many of the victims lost their lives during traffic accidents caused by the rough weather, others were crushed to death by falling trees.Throughout Indiana, the snowfall ranged from 6 to 12 inches, forcing the state to employ 350 snowplows to clear the roads."It's pretty bad. You get a lot of drifting out there. That's what's killing us, mainly," plow driver David White told CNN affiliate WRTV.
The storm's heaviest snowfall is expected to occur in northern Pennsylvania, upstate New York and in several New England states. The winter weather conditions will likely continue in the Northeast until Friday morning, when the storm will move into Canada. Some of the northernmost states have already experienced significant snowfall, even though the worst may still be yet to come."I got here at quarter of five and it's been windy, it's been snowing and I think it changed over to sleet and freezing rain at one point. It's pretty bad," Dale Lamprey of Concord, N.H. told the Associated Press.
Lamprey said he expects to be shoveling all day, since the snow will continue to accumulate and make it impossible to clear off all at once. Americans in big cities were more fortunate than those living further out: New York, Philadelphia and Boston experienced a mixture of rain, snow, sleet and hail, which slowed down commuters but spared them of accumulated snow.Still, hundreds of flights have been canceled or delayed due to icy runways and snow patches at New York's LaGuardia Airport and Philadelphia International Airport. One flight was stuck in a snow patch for two hours in Pittsburgh."The way I've been describing it is as a low-end blizzard, but that's sort of like saying a small Tyrannosaurus rex," Indianapolis-based meteorologist John Kwiatkowski told AP.Even snow plows were getting stuck in some states, where the roads were covered in so much snow that they had little effect in improving conditions. About 40 vehicles were stuck on an Indiana highway when they couldn't make it up an ice-covered hill on Wednesday."Our roadways are, I'm gonna use the term impassable. We need people to stay at home," said Indiana-based Emergency Management Agency spokeswoman Kellie Streeter.
But even though some parts of the Northeast US lucked out by getting rain, a second storm is likely to hit the region before 2013, on late Friday and early Saturday."The cities of Louisville, Ky., Cincinnati, Huntington, W. Va., Pittsburgh, Washington, D.C., Baltimore, Philadelphia and New York are projected to receive a general 1 to 3 inches of snow," AccuWeather predicts."If the storm develops to its full potential some of these eastern areas could be walloped by a foot or more of wind-driven snow and gales that make for not only an angry sea, but the potential for power outages and coastal flooding," the meteorologists added. The news may be disheartening to New York and New Jersey residents who are still trying to fix the damage to their homes caused by Hurricane Sandy in late October.With several US regions declaring states of emergency, the US is in the midst of a storm that brought tornadoes to the south and heavy snowfall across the country, taking the lives of 12 people and bringing the post-Christmas celebrations to a halt.
You can share this story on social media: