Massive blizzard paralyses US northeast, 9 dead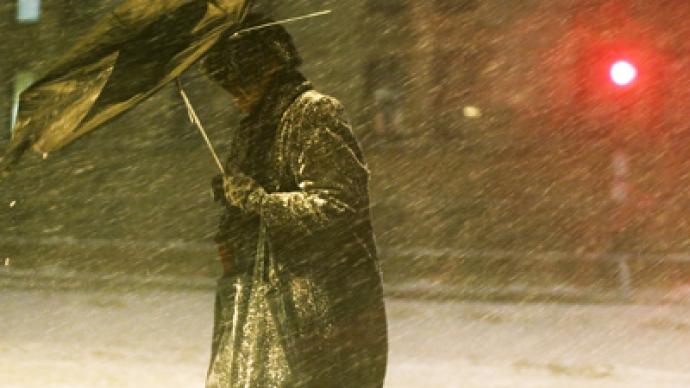 A potentially record-breaking snow storm has brought the US northeast to a grinding halt and left nine dead. Thousands lost power amid flight cancellations and a nuclear plant shutdown, as authorities declared an emergency situation in five states.
The blizzard, which has been dubbed 'Nemo', struck the east coast on Friday, dumping up to 38 inches (96.5 cm) of snow in some areas.Five states – Massachusetts, Connecticut, New Hampshire, New York and Maine – have reported snow totals of 30 (76.2 cm) inches or higher.The storm clobbered New York during the night, leading to mass flight cancelations and the closure of roads, while across the northeast over 700,000 homes were left without power.
An  elderly man was killed in the New York town of Poughkeepsie when he was struck and killed on a snowy roadway, local media reported.In Connecticut, an 80-year-old woman was killed by a hit-and-run driver while clearing her driveway, and a 40-year-old man collapsed while shoveling snow. One man, 73, slipped outside his home and was found dead on Saturday.A 53-year-old man was found dead in the snow Saturday morning outside his home in Bridgeport, and a 49-year-old man died while shoveling snow in Shelton, police said.An 11-year-old boy died from carbon monoxide poisoning in Boston. He was overcome by fumes as he sat in a running car to keep warm. The other man in his 20s also died of carbon monoxide poisoning in his car in Boston.A 23-year-old man was killed in Germantown,New York, when the tractor he was using to plow his driveway rolled down an embankment, according to local media.
A state of emergency has been declared in Massachusetts, Rhode Island, New York and Maine with citizens being warned to stay indoors. "This is a very large and powerful storm, however we are encouraged by the numbers of people who stayed home today," Boston Mayor Thomas Menino told reporters. Fuel shortages have already been reported in a number of states as motorists queue at petrol stations to fill up in the face of a potential crisis.Winds reached speeds of over 60km/h with forecasters expecting hurricane-force gusts of up to 97km/h as the storm's intensity increases.
Meteorologists have said this could be the region's worst snowstorm for decades and have warned that more snow is still to come on Saturday."We're seeing heavier snow overspread the region from south to north," said Lance Franck, a meteorologist with the National Weather Service in Taunton, Massachusetts, outside Boston. "As the snow picks up in intensity, we're expecting it to fall at a rate of upwards of two to three inches [5-7cm] per hour."The massive blizzard has already triggered a number of accidents, among them a 19-vehicle pile-up in Maine that saw one person hospitalized. Meanwhile in Plymouth, Massachusetts, a nuclear power plant has experienced automatic shutdown as a result of the snow storm. The Nuclear Regulatory Commission stated that the Pilgrim Nuclear Power Plant had lost power in the blizzard and stressed there was no threat to the public.More than 5,200 flights in the region have been canceled through Saturday, according to flight-tracking service FlightAware.
'Potentially historic'
The US National Weather Service warned that a combination of two weather systems could result in a "potentially historic" storm.Meteorologists have predicted the storm could dump a total of 3 feet (90 cm) of snow with the potential to seriously disrupt transport schedules.Meteorologist Jeff Masters of Weather Underground said that if the two storms combine it could bring about one of Boston's most intense storms in history."When you add two respectable storms together, you're going to get a knockout punch with this one," he said.Portland, Maine has recorded their greatest snowstorm on record with more than 29 inches (73.6 cm).  Having thus far accumulated more than 21.8 inches (55.3 cm) of snow, the storm is now officially the sixth-largest in Boston history. The highest snowfall total so far is in Milford, Connecticut,  which has received 38 inches (96.5 cm).
For more pictures visit RT Gallery Whit-out USA.
You can share this story on social media: