Long Island still a disaster two weeks after Sandy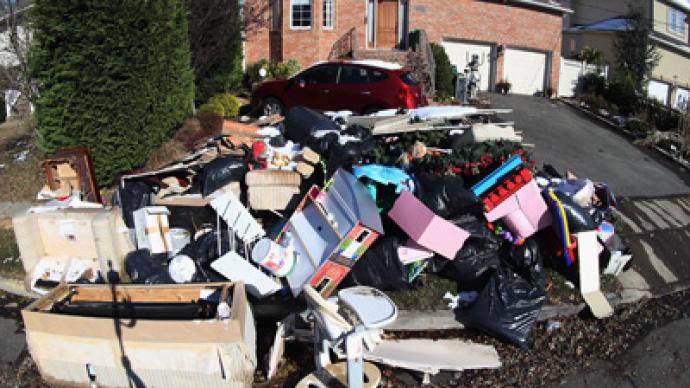 More than two weeks after Superstorm Sandy ravaged the East Coast, thousands of homes and businesses near New York City remain without power as crews from across the country try to rebuild.
On Monday evening, the New York State-owned Long Island Power Authority confirmed that 56,000 customers were still powerless two weeks to the day after a historic tropical storm caused unimaginable destruction along the Atlantic Coast. That figure was updated early Tuesday to only 19,000 homes and businesses, and the LIPA now hopes to have the majority of those customers back on the grid by the evening. Even with workers from around the US making the trip to help repair power lines and repair a section of the country that has experienced upwards of $50 billion in damages, according to some estimates, having electricity once again might be too little too late for some. The LIPA has so far restored service to more than 1.1 million clients, but others residing in areas ravaged by the storm are still wondering when their power will be restored. Because serious flooding and strong winds ripped up the area to a degree far worse than what a little rain would have done on its own, those in problem areas are likely to wait even longer. That's not the only obstacle, though: now the LIPA confirms that an upgrade-in-progress of their computer systems is causing longer than usual delays."It is a huge computer system. After Irene we immediately accelerated that process, and even at that it is still an 18-month to two-year process," LIPA Chief Operating Officer Michael Hervey tells the Associated Press this week. "We would have liked to have had it up and running for now, but it's just such a large magnitude computer system that it takes that long."Hervey adds that the company is doing everything in its power to restore electricity to the remaining customers, but with many of those homes and businesses inaccessible thanks to other damage from the storm, a speedy recovery at this point seems unlikely."They can't be safely re-energized from an electrical standpoint," he said. "We are ready to service those areas, but they are not ready to take it right now."Priscilla Niemiera, a 68-year-old resident of Seaford, sees the problem as being LIPA's fault. On Tuesday, she told the AP that she was one of those 19,000 customers still unable to turn on her television or toaster. According to her, the company should be handling things a bit better."I think LIPA should be broken up into small companies and it shouldn't be a monopoly anymore because this is every single time we have a disaster. And then they raise the rates. We're paying very high rates. We're paying high taxes, high electric. Everything," she said.Frustrations were high outside of a Long Island restaurant this weekend too when a 34-year-old worker from a Florida utility company in town to offer his assistance was assaulted by a local man. John Applewhite tells Fox News that a man in a black BMW approached him after he had just finished a 16-hour day trying to restore power and inquired about the progress."Just as soon as I got within arm's reach of him, he decked me," Applewhite says. That incident left Applewhite with a broken jaw, but two weeks after Sandy hit it's among the least substantial tallies from the storm. New York's chief medical examiner confirmed over the weekend that the death toll in just NYC had accumulated to 43 fatalities — around one-third of the massive count of all kills caused by Sandy.