White supremacist website 'breeding ground for deranged' - SPLC report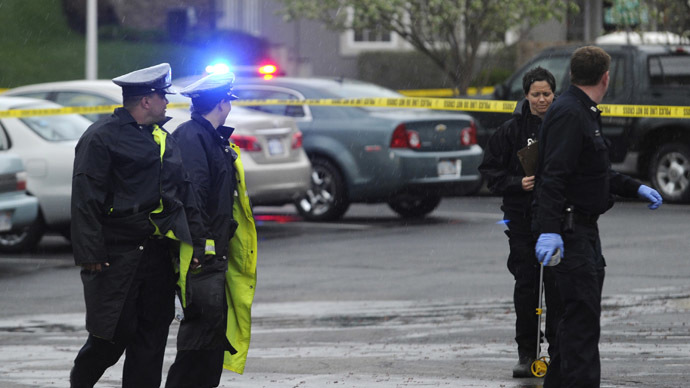 Nine individuals who regularly posted comments on the white supremacist forum Stormfront were found guilty of murdering almost 100 people over the past half-decade, according to a report released today by the Southern Poverty Law Center.
Coming less than a week after Frazier Glenn Miller, 73, allegedly killed three people at two Jewish centers in Kansas last weekend, SPLC released a report that calls Stormfront a "magnet and breeding ground for the deadly and the deranged."
Stormfront founder Don Black, a former Ku Klux Klan member, told ABCNews that Miller, who reportedly posted thousands of comments on a different racist forum, was not welcomed at Stormfront because he testified in court against several white supremacists at a 1988 trial.
"He was certainly unwelcome and I couldn't imagine why he would think he is welcome," Black said.
Miller is being held on a $10 million bond.
The SPLC report lists nine individuals affiliated with Stormfront who went on to commit murder.
The "homicidal trend" involving users of the website began on August 10, 1999 - four years after the Stormfront forum first went online. That was the day when Buford O'Neil Furrow left his parents' home in Tacoma, Washington and drove to Los Angeles, where he shot and wounded four people at a Jewish day care center. Furrow also shot and killed a Filipino-American postal worker.
Eight months later, another Stormfront forum visitor, Richard Scott Baumhammers, killed a 63-year-old Jewish woman before driving to the victim's synagogue where he shot out the windows. Baumhammers then went on a rampage, killing six people.
Richard Andrew Poplawski, 22, who also posted comments on the racist website, shot and killed three police officers in Pittsburgh, Pa. in April, 2009, just four months after Barack Obama was sworn in as America's first black president, the report noted.
Although the SPLC report focuses most of its attention on American "lone wolves" who frequented the white supremacist forum before carrying out a murderous attack, the scale was heavily tipped against Stormfront by the inclusion of Anders Behring Breivik, the Norwegian nationalist who, on July 22, 2011, killed 74 people in the Scandinavian country, many of them teenagers attending a political summer camp.
Breivik, who blamed the Norwegian government for "killing Norwegian identity" through loose immigration policies, had been posting under the username "year2183" on Stormfront for almost three years at the time of the attacks.
Black, the founder of Stormfront, which boasts some 268,000 registered users, told ABCNews.com the SPLC report was "ludicrous" and its figures were "inflated' because it included Breivik. The Norwegian killer was banned from the forum after his shocking crime. Black argued that any number of websites could unwittingly have potential murderers visit their forums.
"We have had a few people who have gone on shooting sprees. Most were domestic issues that didn't have anything to do with politics," Black said.
Heidi Beirich, the author of the SPLC report, calls Stormfront the "murder capital of the internet," where most of the users are "frustrated, unemployed, white adult males," searching for an outlet to air their grievances.
The typical Stormfront member is a "white adult male living with his mother or an estranged spouse or girlfriend," Beirich writes, who begins his fateful internet journey visiting "right-wing antigovernment websites and conspiracy hatcheries." Before long, his virtual travels lead him straight to the den of "militant hate sites" where like-minded "failures" have free reign to blame "Jews, gays, minorities and multiculturalism" for the destruction of white European America.
"If you spend enough time looking at these folks, there is a pattern that emerges," Beirich noted.
"Investigators find that most offenders openly advocated their ideology online, often posting on racist forums and blogs for hours every day."
The Southern Poverty Law Center, which, according to its website, is dedicated to "fighting hate and bigotry and to seeking justice for the most vulnerable members of our society," mentions that fewer than 1,800 registered members log on to Stormfront, with less than half of the site's visitors residing in the United States.
Neverthless, the report goes so far as to compare Stormfront to Islamic terrorists.
"For domestic Islamic terrorists, the breeding ground for violence is often the Al-Qaeda magazine, Inspire, and its affiliated websites," SPLC argues. "For the racist, it is Stormfront."
To those charges, Don Black emphasized that the site is supervised by moderators that "do not tolerate illegal violence, even the suggestion of illegal violence."