Mississippi may honor Confederate general, KKK leader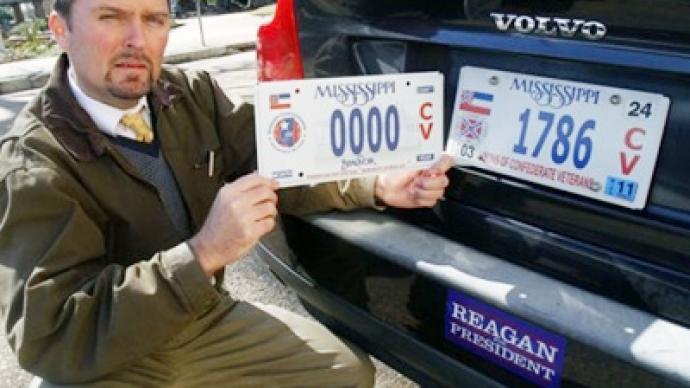 Confederate General and prominent member of the white supremacist Ku Klux Klan Gen. Nathan Bedford Forrest may soon be honored on Mississippi license plates.
A true sign secessionism and confederate roots still run deep in America, the Mississippi Division of Sons of Confederate Veterans have proposed a series of state-issued license plates to mark the 150th anniversary of the American Civil War or as the group refers to it, the "War Between the States." The organizations laid out a different design for each year from now until 2015. Currently proposed for 2014 is none other than Gen. Nathan Bedford Forrest. Not even from Mississippi, Forrest is a Tennessee native and is best known for his military campaign that ended with the slaughter of black Union troops at Fort Pillow in 1864. He was also a 'grand wizard' in the KKK. Supporters of the proposal argued Forrest changed his views later in life, though if he did; it followed years of racial violence spearheaded by the Klan. Opposition groups are simply shocked and dismayed by the proposal in general.Already a Facebook group, "Mississippians Against The Commemoration Of Grand Wizard Nathan Forrest" opposing the plates has surfaced. Group members argued Forrest's past makes him unworthy of being honored by the state – some even equating him to the likes of Saddam Hussein and Osama bin Laden.In previous years Mississippi has held a relaxed attitude towards specialty place of this nature because they can sell them for higher prices than normal plates. Current plates range from Elvis Presley to pro-America and anti-abortion statements. According to AP, Mississippi State Representative Willie Bailey, who approves license plate requests, supports plates honoring Confederate veterans, no matter the design. Currently, the Mississippi Division of Sons of Confederate Veterans' state-issues specialty plates emphasize Civil War-era flags and the home of Jefferson Davis, the Confederate president.
You can share this story on social media: