Cancer victim kept in solitary confinement for 2 years without trial wins millions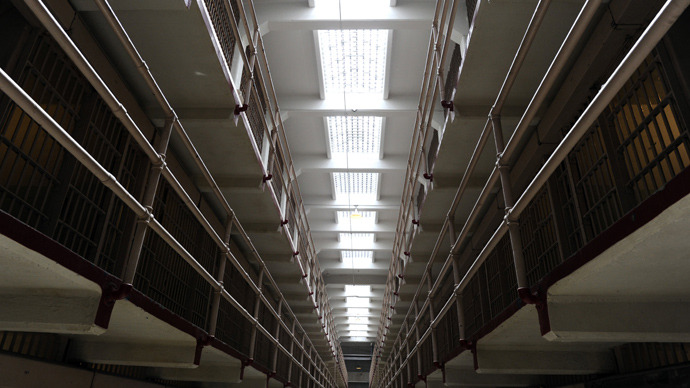 A 59-year-old cancer-stricken man spent two years in solitary confinement in a New Mexico prison, where he suffered from tooth decay, bedsores and a deterioration of mental health. His crime? Drunk driving.
And the man was never even convicted.
Now, former inmate Stephen Slevin has received a $15 million settlement to compensate for the torture he endured in the New Mexico jail cell. Slevin spent 22 months in solitary confinement, where he was denied access to a dentist and was forced to pull out his own tooth.
"He rocked [the tooth] back and forth over a period of eight hours before he was able to pull it out of his mouth," his attorney, Matthew Coyte, told the Associated Press.
Slevin was also deprived of showers, human contact, and outdoor recreation. While incarcerated from 2005 to 2007, fungus grew on his skin, his toenails grew so long they began to curl up, he suffered from malnutrition, and he lost a significant amount of weight.
Locked up in a 6-by-11 foot cell with no outside contact, Slevin's mental health quickly deteriorated.
"They left him long enough where he fell into a delirium and began to decay, essentially, as a human being," Coyte said.
"[Jail guards were] walking by me every day, watching me deteriorate," Slevin told KOB.com. "Day after day, they did nothing, nothing at all, to get me any help."
The former inmate spent nearly two years locked up for a crime he was never convicted of. He was arrested for drunk driving, but never had a trial. Forgotten and neglected in solitary confinement, it wasn't until two years later that a district judge dismissed the drunk driving charge and let Slevin walk free. But the 22 months in solitary confinement continue to haunt the damaged man.
"Your insanity builds," Coyte told NBC on Wednesday, describing how inmates suffer in solitary confinement. "Some people holler or throw feces out their cell doors. Others rock back and forth under a blanket for a year or more, which is what my client did."
The 59-year-old is now suffering from post-traumatic stress disorder as a result of his incarceration. He is also battling lung cancer, although there is no evidence that the cancer is related to his neglect in prison.
"His mental health has been severely compromised from the time he was in that facility. That continues to be the same," Coyte told NBC. "No amount of money will bring back what they took from him. But it's nice to be able to get him some money so he can improve where he is in life and move on."
Dona Ana County, N.M. has promised Slevin a $15.5 million settlement for his ordeal, which is one of the largest prisoner civil rights payouts in US history. The victim initially asked for $22 million, which he was awarded in January 2012. But after number appeals by the county, which refused to pay Slevin, the settlement was reduced to $15.5 million on Tuesday.
Slevin claims that more than the money, he wants Americans "to know that the people at the Dona Ana County Jail are doing things like this to people and getting away with it". His lawyer believes that other inmates have suffered under equally inhumane conditions, and that this case should spread awareness about the torture prisoners might be enduring in solitary confinement across the nation.
"This treatment was a matter or routine there. But this is happening all over the country," Coyte told AP.
You can share this story on social media: