Stop Watching Us: Snowden supports largest privacy rally scheduled for Saturday in Washington DC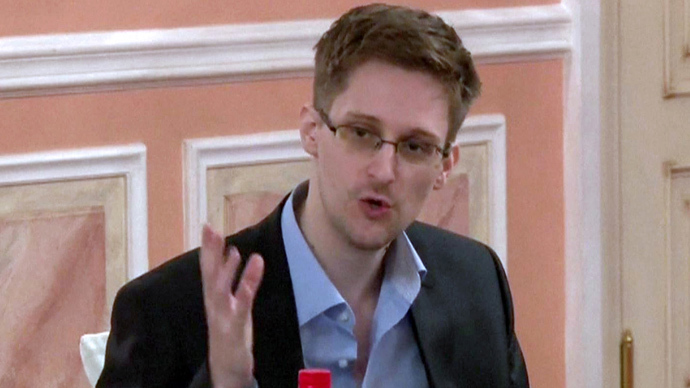 While Americans continue to learn more about the data surveillance program run by the National Security Agency, civil liberties groups are organizing what's being billed as the largest privacy rally in United States history.
The Rally Against Mass Surveillance – run by a coalition of over 100 public advocacy groups known as Stop Watching Us – will take place Saturday, October 26 in Washington, D.C. Thousands are expected to attend the event, where organizers will deliver a petition to Congress signed by more than 500,000 people opposed to the NSA's policies.
Member groups of Stop Watching Us include the American Civil Liberties Union, Freedom Works, as well as individuals like Chinese artist/activist Ai Weiwei and Glenn Greenwald, the journalist who worked with Edward Snowden to expose many of the NSA's surveillance procedures.
The build-up to the rally began October 16, when Fight for the Future (FFTF), a non-profit group and member of the Stop Watching Us coalition, released a new video tackling the NSA's various surveillance practices. The crowdfunded video, narrated by Evangeline Lilly, is intended to drive conversation and generate momentum for a movement hoping to grow even larger.
"This isn't about whether or not you have something to hide; it's about our most basic rights, like freedom of speech and freedom of expression," FFTF Campaign Manager Evan Greer told RT in an interview. "We hope this video does a good job of conveying that to people, and taking this beyond a conversation about terrorism and security and into a conversation about freedom."
So far, the NSA video has reached over 250,000 views on YouTube, and the group is hoping to recreate the effect it generated with its video on the Stop Online Piracy Act (SOPA). With more than 7 million views, that video helped launch an effort that eventually influenced the tabling of the legislation in Congress.
Additionally, the Stop Watching Us coalition itself released a video on Wednesday, featuring appearances by Rep. John Conyers Jr. (D-Mich.), Oliver Stone, and others. One of the rally's organizers, Sina Khanifar, also noted the importance of generating momentum.
"This is a historic moment," Khanifar said. "If we don't make it clear to the government that we won't stand for surveillance while Snowden's leaks are in the press, we may never have another chance." 

<i><br></i>
On Thursday, Snowden himself released a statement in support of the rally, encouraging Americans to speak up.
"Today, no telephone in America makes a call without leaving a record with the NSA. Today, no internet transaction enters or leaves America without passing through the NSA's hands. Our representatives in Congress tell us this is not surveillance. They're wrong."
"Now it's time for the government to learn from us … Join us in sending the message: Stop Watching Us."
Sensing a shift in mainstream opinion, groups involved in the DC rally are hoping it marks a pivotal point in the ongoing debate over government surveillance. Since the spy program has come to light, Rep. James Sensenbrenner (R-Wis.), the chief sponsor of the Patriot Act, has filed court papers in support of a lawsuit looking to halt the NSA from continuing its current policies. Meanwhile, Rep. Rush Holt (R-N.J.) has also introduced legislation that would repeal both the Patriot Act and the FISA Amendments Act.
"You have the same members who wrote and passed the Patriot Act now falling over each other trying to undo and dismantle some of the NSA's programs," Greer said. "This is the American people – people around the world – recognizing that our most basic rights have been violated."
Recent polling on the issue shows the majority of Americans oppose the blanket collection of private data by the government, though others have painted a more complicated picture when terrorism enters the equation. Supporters of the surveillance program have pointed to the administration's claim that 54 attacks have been "thwarted" as a result of data collected, but a new ProPublica report revealed that evidence for this is thin, and the NSA has only described four cases to the public.
According to Greer, while it's unclear how effective the program has been concerning terrorism,"what we do know is that the NSA and its defenders in Congress have consistently misled the public, given false information, and outright lied about this issue … What we definitely know is that these programs have had a massively chilling effect on freedom of speech and freedom of expression."
Neither FFTF nor Stop Watching Us is pushing specific legislation with the rally in DC, but they are seeking more than transparency on the matter. For its part, FFTF would like to see "a complete overhaul of the laws that govern surveillance," including requiring government agencies to seek out a judge and a warrant when they desire access to an individual's data.
Whether or not the rally succeeds in driving lawmakers to act remains to be seen, but FFTF also wants those outside government to create better software that could help protect individuals' privacy.
"The reality is that the US is not the only one doing this," Greer said. "Government and those in power are going to be attempting to surveill people, and we as an internet community need to find ways to protect ourselves, particularly those that challenge power and journalists that report on it."
You can share this story on social media: