Shocker: Snowden, Manning, NSA not on Google's 2013 top trends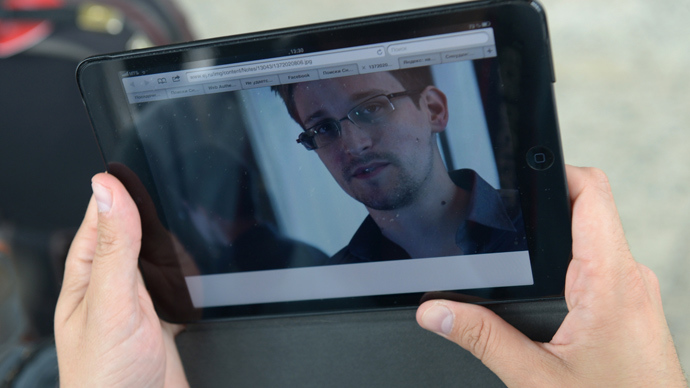 Search engine analytics offer the unmatched ability of gauging exactly what the world wants to know about during a particular point or span of time.
But depending on how you view humanity, Google's tally of the year's top trends might appall you.
The Silicon Valley giant published a report this week that compiles the top trends of 2013 according to the searches queried by Google's daily user base of around one billion customers around the world. And while an informal, not-so-scientific straw poll of RT staffers conducted on Wednesday in our DC office suggested this year's top 10 would be rounded off by the likes of National Security Agency whistleblower Edward Snowden, Catholic Church leader Pope Francis or — for whatever reason — twerking, the truth of the matter is that neither the man who exposed an international surveillance scandal nor the most talked-about dance craze of maybe the decade made the final cut when the world at large is taken into consideration.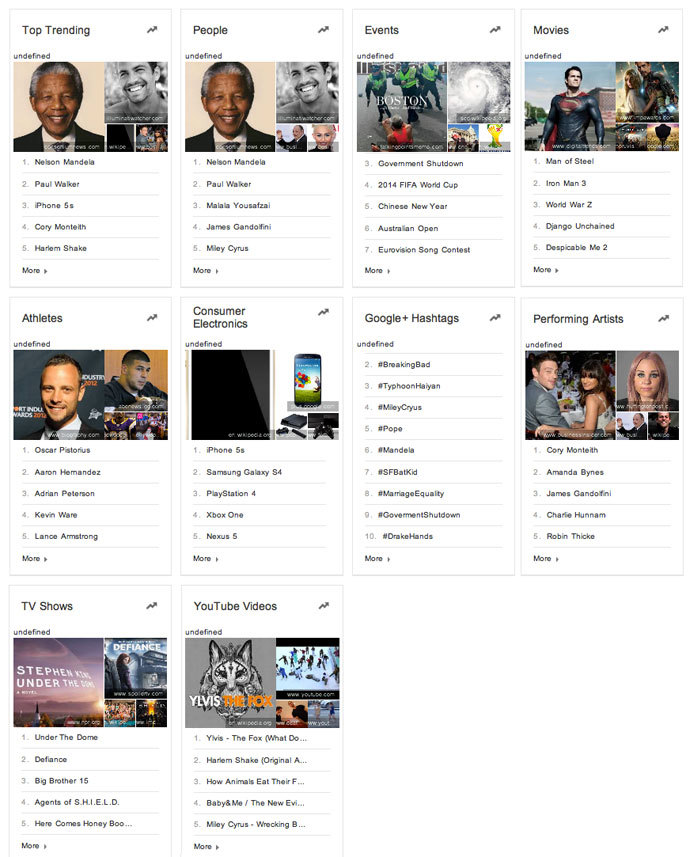 According to Google, the top trending search terms globally in 2013 were:
1. Nelson Mandela
2. Paul Walker
3. iPhone 5s
4. Cory Monteith
5. Harlem Shake
6. Boston Marathon
7. Royal Baby
8. Samsung Galaxy S4
9. PlayStation 4
10. North Korea
Outliers aside, Google's Top 10 list and the subsequent custom searches made using their Trends page reveal that the vast number of web-connected residents of the world are more interested in the specs of smart phones then, say, the NSA leaker who tried to show the world that those very devices are being tapped by the United States government.
Obviously no disrespect is intended for the families of the late icons and actors who are now immortalized as among the top-queried search terms of 2013, but the absence of Mr. Snowden in particular prompted calls for others upon publishing of Google's latest report, including the likes of Washington Post blogger Brian Fung.
"This year's National Security Agency revelations have created a firestorm of reports and debates about the state of US surveillance technology and intelligence policy. It set off a brief international manhunt. Entire countries are now building countermeasures to deflect the NSA's gaze. But at least in the eyes of Google, Edward Snowden was hardly a blip on the radar," Fung wrote for a Post report published on Tuesday.
Fung goes on to show that there isn't some sort of glitch that would sideline Snowden in favor of related searches — like "NSA," "surveillance" or "spying." Nevertheless, all of those search items are absent from Google's lists of both top trending people and events.
And according to other leading search engines, those results are all too typical. Yahoo published their list of Top 10 searches earlier this month, and put Miley Cyrus at number one, followed by Kim Kardashian, Kate Upton, Minecraft and Selena Gomez. "Obamacare" ranked number six, and the iPhone 5 made an appearance on that list at ninth place.
Similar lists published this month by Microsoft-owned search engine Bing show results on par with both Google and Yahoos. Bing's Top 10 list of most-searched people was made up almost entirely of either pop singers or TV stars (the only exception was US President Barack Obama in the tenth place), and the most searched-for news stories on that site was without Snowden and the NSA as well.
"American politics continued to drive searches this year, with the Fiscal Cliff, the Supreme Court's Gay Marriage Ruling, the IRS Scandal along with the legalization of Marijuana all coming in in the top 25," Bing wrote in a blog post earlier this month, which made no mention of Snowden or the NSA whatsoever.
For comparison, take a look at how the NSA whistleblower matched up against other search terms in 2013, according to Google's analyses (Screenshots all from Google):

You can share this story on social media: