NSA documentary on CBS sparks Twitter fury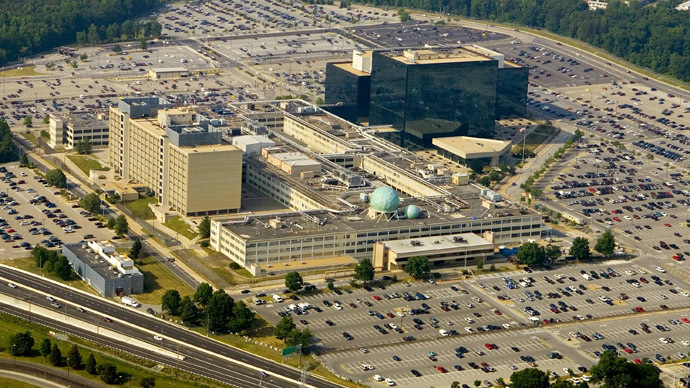 A CBS documentary on the inner workings of the NSA has prompted condemnation for its "one-sided" portrayal of the spy agency. Spy chiefs denied allegations they snooped on American citizens and claimed they only spied on foreigners.
During the program entitled '60 Minutes' correspondent John Miller – a former NSA employee – explores the headquarters of the NSA in Fort Meade, Maryland, interviewing employees who have previously never spoken to the press. At the beginning of the show, Miller explains the NSA often stands for "never say anything", but promises the agency has "broken with tradition" to dispel allegations the US is spying on its own citizens.
The new installment of '60 minutes' triggered a flurry of criticism on social media following its airing on Sunday night. Internet commentators accused CBS of propagating a one-sided image of the national spy agency. In addition, journalist and whistleblower, Glen Greenwald, who was handed security leaks by former NSA contractor Edward Snowden, spoke out on Twitter, calling the show "way beyond self-parody".
State TV RT @tnyCloseRead Quick pivot on @60minutes from Snowden character-trashing to how NSA will save us all from cyber attacks...

— Glenn Greenwald (@ggreenwald) December 16, 2013
Miller refers to Edward Snowden during '60 Minutes' as a "20-something-year old high school dropout contractor". Snowden, who has been dubbed a whistleblower by some media outlets, divulged a trove of classified data which revealed the NSA's massive international spy network.
The NSA's spy chiefs denied allegations that the agency recorded telephone calls and claimed it only spies on foreign terror targets.
Hey, young people: Believe it or not, "60 Minutes" once stood for solid, deep, important journalism. I know, that sounds absurd now.

— Dan Gillmor (@dangillmor) December 16, 2013
"The fact is, we're not collecting everybody's email, we're not collecting everybody's phone things, we're not listening to that. Our job is foreign intelligence and we're very good at that," said General Keith Alexander, head of the spy agency. Alexander, however, did not address allegation that the NSA had lied to Congress about the extent of their spy programs.
He went on to condemn Edward Snowden's security revelations as handing over the "keys to the kingdom" to America's enemies.
This 60 Minutes report on NSA has gone from one-sided to misleading. No critics? No skeptics to question the cyber Armageddon claims?

— Shane Harris (@shaneharris) December 16, 2013
General Alexander also said he did not agree with the possibility of granting Snowden amnesty, maintaining he needed to be punished for his crimes. He likened the idea of amnesty to a hostage situation.
"This is analogous to a hostage taker, taking 50 people hostage, shooting ten and then saying: "if you give me full amnesty then I'll let the other 40 go," said Alexander.
Continuing the tradition well tonight RT @GregMitch John Miller has been propagandist for FBI/police/CIA for years.

— Kevin Gosztola (@kgosztola) December 16, 2013
The US agency has described Snowden's revelations as the biggest security breach in American history and says they will never know the full extent of the leaks. Snowden maintains he has handed over all the documents to various international news organizations and now has copies, something that NSA officials do not believe. Snowden is currently living in Russia where he has been granted temporary political asylum by the government. Washington wants the whistleblower extradited on charges of espionage.
Since the spy revelations emerged the US government has sought to improve the image of the NSA and maintain it is key in protecting America from terrorist threats.
You can share this story on social media: