Snowden summoned Americans 'to confront the growing danger of tyranny,' father says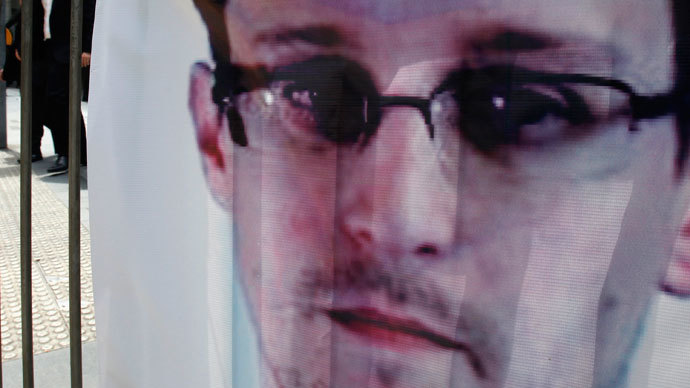 National Security Agency leaker Edward Snowden's father has published an open letter praising his son's contributions in exposing the United States' vast surveillance operations.
According to the Associated Press, Lonnie Snowden celebrated his son's work "summoning the American people to confront the growing danger of tyranny."
The letter was reportedly penned by the leaker's dad and Bruce Fein, a Washington, DC-based attorney who has represented CIA whistleblower John Kiriakou.
Publishing of the open letter comes less than 24 hours after Edward Snowden issued a statement through the anti-secrecy website WikiLeaks from Moscow, where he has spent eight days so far awaiting potential asylum from one of more than a dozen countries he's pleaded with for assistance. President Barack Obama has asked for Snowden to be extradited to the US, and the Department of Justice has indicted him on counts of espionage for disclosing state secrets involving the NSA's clandestine surveillance programs.
"In the end the Obama administration is not afraid of whistleblowers like me, Bradley Manning or Thomas Drake," Snowden, 30, said in the WikiLeaks statement. "We are stateless, imprisoned or powerless. No, the Obama administration is afraid of you. It is afraid of an informed, angry public demanding the constitutional government it was promised — and it should be."
Lonnie Snowden has reportedly not spoken to his son directly since before Edward fled the US in May for Hong Kong. There he gave several interviews to The Guardian newspaper, which first published leaked documents attributed to him on June 6.
"I love him," Lonnie Snowden told NBC News last week. "I would like to have the opportunity to communicate with him." He has also suggested that the whistleblower website that released a statement on behalf of his son earlier this week may not have his best interests at heart.
"I think WikiLeaks, if you've looked at past history, you know, their focus isn't necessarily the Constitution of the United States. It's simply to release as much information as possible," Lonnie Snowden said.
Fein told Fox News previously that he is attempting to work "with the Department of Justice of creating information directly to Mr. Edward Snowden that would enable him to make an intelligent decision of what's available back in the United States with regard to due process."
You can share this story on social media: