Upstate New York shooter dead – police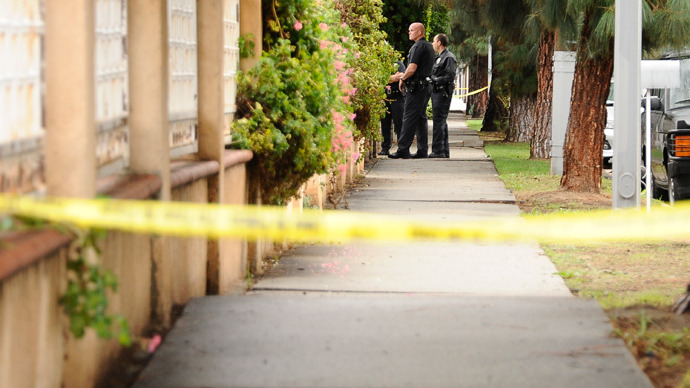 Upstate New York shooter Kurt Myers was killed by police when they stormed his hideout in an abandoned building on Thursday morning. The 64-year-old man earlier killed four and injured two more in a shooting rampage at a carwash and barbershop.
SWAT teams spent several hours looking for Myers, cornering him in the town of Herimer. Police said they sent in a dog first, returned fire when the suspect opened fire on the canine, and then moved into the building and shot the man dead.

"He was waiting for us," State Police press liaison Jack Keller said. "He kills the dog. They hear shots fired. Our teams returned fire and the suspect gets shot."

No officers were killed in the shootout, which occurred in the basement of the building.

Police said that Myers, 64, of Mohawk, NY, opened fire Wednesday near a car wash in Herkimer County, New York, halfway between Syracuse and Albany. Two people were shot dead on the scene, and two others were fatally wounded nearby at a local barbershop.

Authorities said six people were shot in all, with four succumbing to their wounds as of 11:18am Wednesday morning.

Police said Myers' killing spree started when he torched his apartment in the nearby town of Mowhawk on Wednesday morning. Once the fire was extinguished, law enforcers said about "half-a-dozen long guns" were removed from Myers' residence.

Myers then took a shotgun and drove to John's Barber Shop in Mohawk, where he shot dead Harry Montgomery, 68, of Mohawk, and Michael Rancier, 57, of Herkimer.

John Seymour, one of the men wounded in the assault, said the attack came out of nowhere.

"He just said that the guys were in the barbershop and this guy comes in and he says, 'Hi John, do you remember me?' and my brother said, 'Yes, Kurt, how are you?' and then he just started shooting," Seymour's sister said.

Seymour, who was shot in the left hand and right hip, was hospitalized in critical condition.

Myers then drove to Gaffey's car wash in neighboring Herkimer, where he shot Thomas Stefka, who worked at the establishment, and Michael Renshaw, before fleeing to the abandoned building.

Ilion, NY, resident Jason Ackler, 39, told the Utica PD that he thought the suspect was "trying to prove a point." Ackler's friend was among the six shot Wednesday morning, and his condition is unknown. He said, however, that he believed Myers began the shooting spree with a clear intention as to what he wanted to accomplish. "It definitely seems like he knew what he was doing," Ackler added.

Neighbors have described Myers as a quiet loner who did not respond when people tried to speak with him. Police said they have not established a motive for the shooting spree.

You can share this story on social media: