New Jersey supermarket shoot-out: 3 dead
Published time: 31 Aug, 2012 11:16
Edited time: 31 Aug, 2012 20:16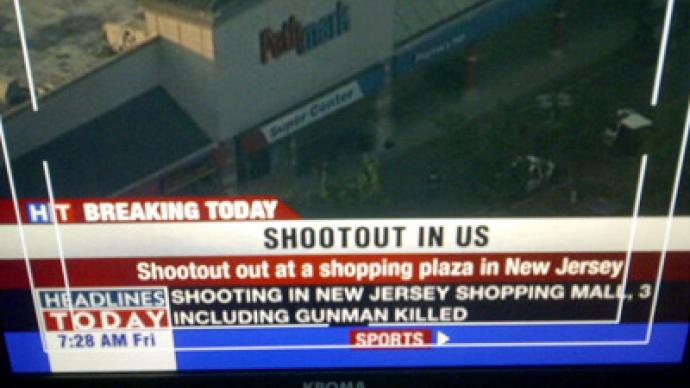 Police exchanged fire with an armed individual in a shopping center in Old Bridge, New Jersey. The gunmen killed two people before turning his weapon on himself, say police.
­The suspected gunman was reportedly killed in the shootout with Old Bridge police officers, which took place around 4:00am local time (8:00 GMT) in Pathmark grocery store, on Route 9 near the Sayreville border.
Employees were reportedly stacking shelves in preparation for the shop's 6 am opening when the shooting broke out.
A preliminary report by authorities identified the suspect as a man in his 20s who was either a former or current employee of the store, and was also a former Marine. US media reports tentatively identified the shooter as Terence Tyler, who had moved in not along ago.

The two victims, a young woman and a man, were both from the township, a local news website quoted Middlesex County Prosecutor Bruce Kaplan as saying. One of the victims, 18-year-old Cristina LoBrutto, had recently graduated from Old Bridge High School. The other, 24-year-old Bryan Breen, was from the Laurence Harbor area of Old Bridge.
"I don't believe they were specifically targeted. I believe everyone was targeted," Kaplan said.

The suspect apparently returned to the store after he had finished his night shift. He was armed with weapons and multiple magazines and started firing randomly, Kaplan told reporters.

An assistant manager got a dozen of other store employees out quickly opening a backdoor.

Some witnesses claimed that the gunman was wearing body armor and had taken several hostages.
Aerial footage of the New Jersey shopping mall showed several people being ushered into ambulances.
Heavily armed police rushed to the scene of the incident, where several windows were apparently shattered during the shooting.