Sex workers in Arizona given choice of therapy in church or arrest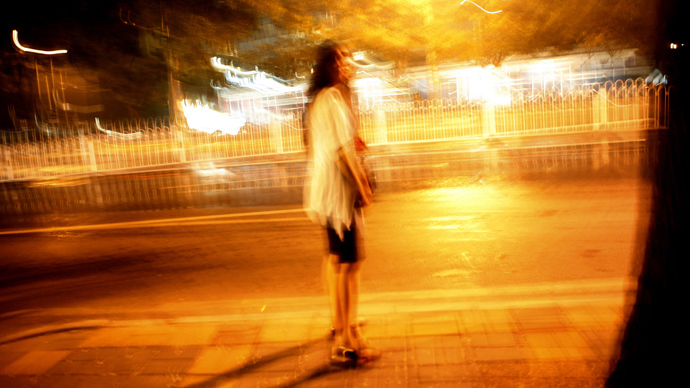 Rather than being taken to jail, sex workers detained on the streets of Phoenix are being brought to a church, where they can decide if they would rather be incarcerated or undergo therapy, a report by VICE columnist Molly Crabapple has revealed.
The policy, known as Project ROSE, is a Phoenix program that, according to a Vice News piece by journalist Molly Crabapple, has aimed to help more than 350 people since it began in 2011.
Police sweep the streets and browse the internet searching for prostitution listings. They may catch dozens of women during any given sting operation but, instead of hauling them into jail, the police handcuff them and bring them to the Arizona State School of Social Work.
The program – organized by Dominique Roe-Sepowitz, the director of the Office of Sex Trafficking Intervention Research and a professor of sociology at Arizona State – offers healthcare, housing, and other support services to sex workers. If the women agree to the program they are not arrested and taken to jail. Those who have already completed the program, or have outstanding felony warrants, though, are not eligible to go through it again.
My latest for @VICE. Please share "Project ROSE Is Arresting Sex Workers in Arizona to Save Them" http://t.co/jJ3To4IW7i

— Molly Crabapple (@mollycrabapple) February 26, 2014
Local activists have complained about Project ROSE, accusing the organizers of coercing the sex workers into joining the program by threatening them with arrest. Those who have gone through it told Al Jazeera that prostitutes are not initially arrested, but are instead taken into a windowless church room. They meet with local prosecutors and detectives, as well as representatives of Project ROSE, who remind them of their option to partake in the program.
"Project ROSE is a service opportunity for a population involved in a very complex problem," Lieutenant James Gallagher, the former head of the Phoenix vice squad, told VICE columnist Molly Crabapple.
Roe-Sepowitz agreed, maintaining in an interview with Al Jazeera that she is only trying to help struggling women find their way out of a dangerous lifestyle. She estimated that 35 percent of the women who first arrive at Project ROSE eventually lead healthy, productive lives.
"It's easier to speak for someone if you pretend they have no voice." on arresting sex workers "for their own good" http://t.co/5NN7Lo1XPD

— Molly Crabapple (@mollycrabapple) February 26, 2014
"Once you've prostituted you can never not have prostituted," she said. "Having that many body parts, having that many body fluids near you and doing things that are freaky and weird really messes up your idea of what a relationship looks like, and intimacy."
Arizona taxpayers foot most of the bill to help the women, paying $3,000 to Bethany Bible Church when the two-day raids are conducted each month.
In recent years, police in many regions throughout the US have shifted from an arrest-first, ask questions later approach regarding prostitutes to a more understanding approach. Often, when a woman is arrested, she is bailed out of jail by her pimp and continues to live under his control, surrendering most of if not all of her wages and repeating the cycle. Police, while still arresting many prostitutes and pursuing pimps, now work in conjunction with advocacy groups to help sex workers hoping to escape do just that.
To project ROSE, "rescue" is more important than rights http://t.co/5NN7Lok73L (my latest on arrests of sex workers)

— Molly Crabapple (@mollycrabapple) February 26, 2014
A 2013 study by the Institute of Medicine and the National Research Council examining sex trafficking and the exploitation of minors recommended "better collaborative approaches that build upon the capabilities of people and entities from a range of sectors."
"These crimes may be overlooked, as they often occur at the margins of society and behind closed doors; victims may not come forward; and those who routinely interact with victims and survivors may lack awareness or tools to properly identify and assist victims," the researchers said, adding that "many victims go without help" for their entire life.
That broad rationale does not apply to Project ROSE, according to demonstrators who showed up outside the church last year to protest what they perceive as the imposition of morals on sex workers. Among those upset was Monica Jones, a student and sex worker activist who was picked up by the Phoenix police in 2013 for "manifesting prostitution." Jones told Vice that Roe-Sepowitz was wrong to claim that someone could never move past selling herself.
"As a social worker, you're supposed to see your clients as human beings," she said to Crabapple. "But her way of thinking is that once you're a sex worker, you can never not be a sex worker."
not sure if Dominique Roe-Sepowitz hurts her case more by refusing talk or by saying "once a prostituted woman, always a prostituted woman"

— Molly Crabapple (@mollycrabapple) February 26, 2014
Jones went through the diversion program but complained that she was forced to listen to officers from the Phoenix vice squad describe girls who started with prostitution and descended into drug addiction, or worse. She complained about the program's religious overtones and was eventually asked to leave early before her opinions could take with others.
"I wasn't ashamed about being a sex worker. I kept bringing this up during the diversion program," Jones said. "Girls would ask me why I didn't feel this way. Well, because I don't. I have the right to my own body."
You can share this story on social media: