Anti-gay Senator caught on all-gay dating site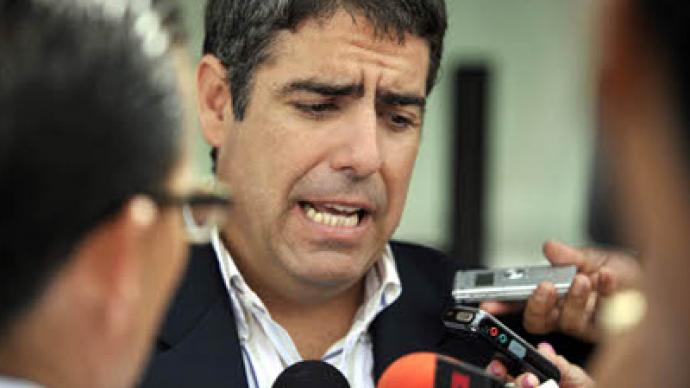 Grindr, the largest all male location-based mobile network tool, says it is quick, convenient and discreet. It doesn't advertise, however, that it is congressional poison — but lawmakers should probably figure that part out for themselves anyway.
After all, Puerto Rican Senator Roberto Arango did. Following allegations that he uploaded nude and lewd photos of himself to the popular gay-cruising phone application, Arango, senator and president of the New Progressive Party of Puerto Rico, has offered his resignation. While he has not confirmed nor denied that the photo is of him — or if he posted it to Grindr — Arango is only the latest lawmaker to subscribe to the trend of politicians not that privy at hiding their personal life. Puerto Rican television program Dando Candela showed a shirtless photo of Arango last week that they say came from the gay dating app, to which the senator offered up a vague explanation that wasn't exactly a denial. "You know I've been losing weight," said Arango. "As I shed that weight, I've been taking pictures. I don't remember taking this particular picture but I'm not gonna say I didn't take it. I'd tell you if I remembered taking the picture but I don't." Since then, muckrakers have unearthed an earlier photo of the politician wearing what appears to be the same necklace that he is sporting in the shirtless pic obtained from Grindr.
While that hasn't exactly sparked the memory of Arango, he decided it was in his best interest to resign from the Senate. He offered his resignation in a letter on Sunday, reports the AP, though the contents have not been disclosed.Speaking of disclosed contents, another image allegedly of Arango has since surfaced, which shows what looks to be the former Senator bent over a bed, anus agape, photographing his backside with a cell phone camera. If that image does turn out to be of Arango, it will reveal a new stance for the politician, to say the least. Should the Grindr account turns out to be legit, backers of the San Juan Republican might feel betrayed that the same Senator that voted in favor of blocking same-sex marriages in Puerto Rico (and opposed adoption rights for gays) was a user of one of the most popular gay dating apps available. January 2010 already saw 300,000 users of the app in nearly 80 countries.
You can share this story on social media: