Senate leader orders probe of CIA computer hacking scandal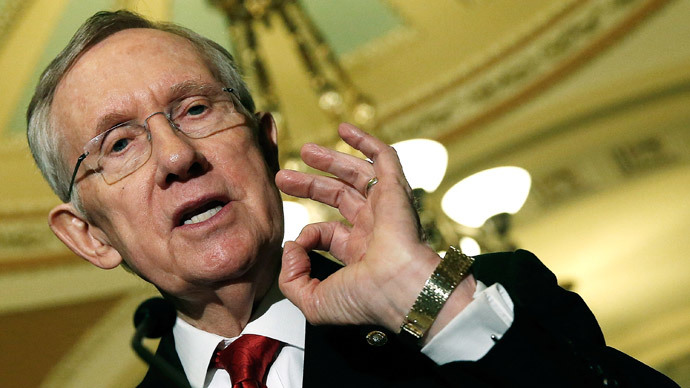 Following allegations that the CIA spied on members of Congress as they looked into the agency's harsh interrogation methods, US Senate Majority Leader Harry Reid (D-Nev.) ordered an investigation into the issue on Thursday.
According to the Washington Post, the probe comes as Reid has "grown convinced" the CIA attempted to obstruct congressional members working on a report scrutinizing the Bush-era's so-called enhanced interrogation program, something many have equated with torture.
In letters to Attorney General Eric Holder and CIA Director John Brennan, Reid explained the decision and also raised his concern that the intelligence agency may have violated the Constitution by breaching congressional computers.
"The CIA has not only interfered with the lawful congressional oversight of its activities, but has also seemingly attempted to intimidate its overseers by subjecting them to criminal investigation," Reid said in the letter to Holder, according to Reuters. "These developments strike at the heart of the constitutional separation of powers between the legislative and executive branches."
The situation unfolded publicly last week, when Sen. Dianne Feinstein (D-Calif.), chair of the Senate Intelligence Committee and traditionally an ally of the intelligence community, accused the CIA of hacking into the computers used by lawmakers to investigate US interrogation techniques.
As noted by NBC News, the new probe will involve a forensic examination of the computers and the network assigned to Senate staff.
The CIA claims senators improperly got their hands on classified information regarding the agency and its interrogation program under former President George W. Bush – one which included tactics such as waterboarding. In his letter to Brennan, Reid called this accusation "patently absurd," adding, "the CIA has produced no evidence to support its claims that Senate committee staff who have no technical training somehow hacked into the CIA's highly secure classified networks."
As RT reported last week, Brennan denied allegations of wrongdoing by Feinstein, saying the CIA was not trying to influence or block the report from being released to the public. Regarding the possibility that Senate computers were hacked, he said, "We wouldn't do that. That's just beyond the scope of reason."
In response to Reid's letter, CIA spokesman Dean Boyd said, "We are a far better organization because of congressional oversight, and we will do whatever we can to be responsive to the elected representatives of the American people."
The Justice Department, meanwhile, said it is still reviewing Reid's letter.
According to the Post, Feinstein expects the Senate committee to declassify the 6,000 page interrogation report by the end of March.