Senate to expand background checks on gun owners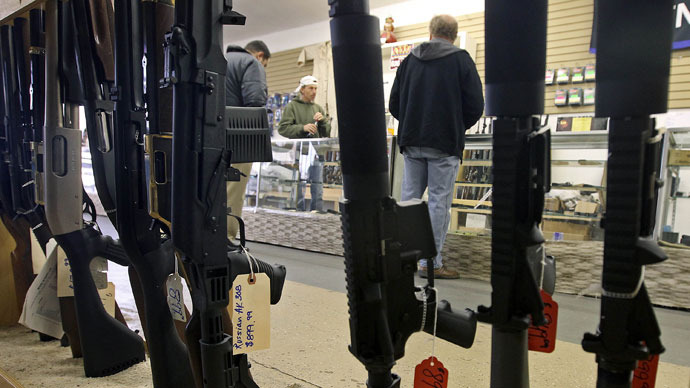 A Republican and a Democrat have come to an agreement regarding gun ownership background checks: Sens. Joe Manchin and Patrick Toomey have made a bipartisan deal that they say would keep firearms out of the hands of criminals and the mentally ill.
"This is common sense," Manchin said Wednesday while introducing the proposal. The bipartisan agreement between a conservative from each party is a major step towards a deal that would expand background checks to more gun buyers. Republican lawmakers have long tried to block gun control initiatives, but the bipartisan deal could set the stage for future agreements in Congress.
"I don't consider criminal background checks to be gun control," Toomey said, in a statement meant to persuade Republicans to support his bipartisan proposal.
The deal drafted by the two senators would require an increase on background checks and sales records on gun purchases. Some private transactions, such as those between family members, would be excluded from the new legislation – but the gap would be much narrower. All purchases made over the Internet would be subject to background checks, as well as those made at gun shows.
"Truly, the events at Newtown changed us all," Manchin said, referring the massacre at which 26 people were fatally shot at Sandy Hook Elementary School last December. "Americans on both sides of the debate can and must find common ground."
President Barack Obama has been pushing for greater gun control and increased background checks for months, but Congress has been unable to agree on legislation addressing gun violence. In late March, the president addressed the nation, shaming Congress for its unproductivity in wake of a massacre that he said has become largely forgotten.
"We need everybody to remember how we felt 100 days ago and make sure that what we said at that time wasn't just a bunch of platitudes, that we meant it," he said at the White House.
"There are some powerful voices on the other side who are interested in running out the clock, or changing the subject," he said, adding that "their assumption is that people will just forget about it."
The agreement between Manchin and Toomey comes at a strategic moment: the Senate will vote on Thursday to begin debating gun legislation – a move that some have tried to prevent, but that the bipartisanship between the senators might encourage.
But the collaboration between the Democrat and the Republican is not enough to relay support from the National Rifle Association. In a written statement sent to AP, the NRA said expanding background checks would have no effect on gun violence.
"Expanding background checks at gun shows will not prevent the next shooting, will not save violent crime and will not keep our kids safe in schools," the statement said, adding that lawmakers should instead address the flaws in the country's mental health system and try to tackle gang violence.
"President Obama should be as committed to dealing with the gang problem that is tormenting honest people in his hometown as he is to blaming law-abiding gun owners for the acts of psychopathic murders," the NRA added.
The background check system currently only covers sales made by licensed gun dealers, but the bipartisan proposal would have it apply to all commercial sales, as well as make sure all sales are channeled through a licensed dealer.
But even though two senators have come to an agreement, Congress has a long road ahead in terms of collaboration between the parties. Thirteen conservatives have already vowed to block a Senate debate on gun control, and only eight Republicans have indicated their willingness to go forth with it.