May Day mayhem in Seattle: Police mace and fire flash bang grenades at protesters (PHOTOS, VIDEO)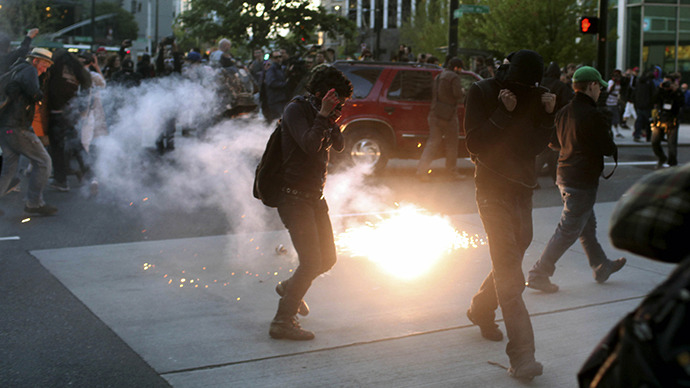 Violent clashes marked the final hours of May Day protests in Seattle, as police officers fired pepper spray and launched 'flash bang' grenades into crowds, leading to two local reporters being pepper-sprayed and 17 arrests.
A serene daytime immigration reform protest took place on Wednesday daytime, during which hordes of people, ranging between 'hundreds' and 'thousands' took to the streets. Demonstrators waved banners stating "we are America," and "there are no illegal humans," according to local newspaper the Seattle Times.

The evening later saw a rise in anti-capitalism Labor Day protests, involving reported numbers ranging from 'dozens' to 'hundreds.' They were accompanied by police as the later demonstrators lacked a permit to march. As night fell, rocks and bottles were thrown by anarchic individuals wearing bandanas, lobbing rocks and bottles at officers, overturning bins, and leaving the streets scattered with debris.
The protests were indiscriminately suppressed by police.
Police originally reported 18 arrests, but later reduced this number to 17. The first 13 arrests, made at approximately 9pm local time included two 'juveniles,' amid accusations that some anarchists had hijacked an otherwise-mild protest.

Numerous protesters and observers complained about the way crowds were treated by the police. "They don't have any manners. They don't say please or give you time to get out of the way," Olivia One Feather, an observer from Covington, told local news station King5.com. She added that she was pepper-sprayed when she tried to record the actions of officers.

At least two local reporters received faces full of pepper spray from the police officers while documenting the event. A photographer named Erica C. Barnett said that a "full canister" was used on her as she attempted to take a photograph of Seattle Police knocking a woman to the floor.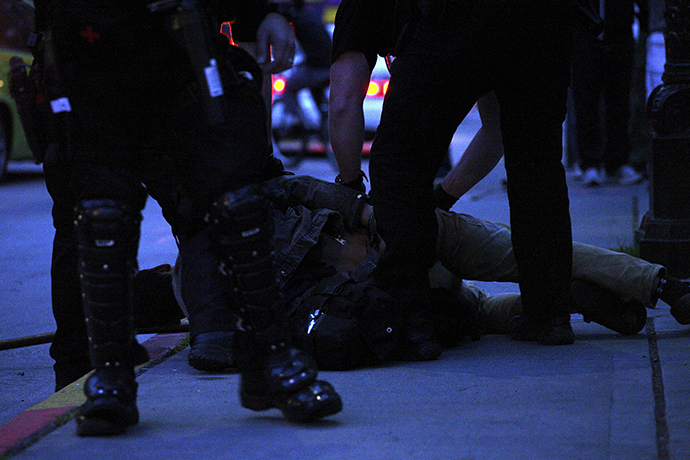 Barnett later sent a text to a fellow reporter stating that she "literally did nothing to provoke that cop" adding that "he had to advance on me to get in range to hit me in the eyes and mouth," according to their local news website, Seattle Met.
Photojournalist Joshua Trujillo also alleged that he'd been sprayed by the police.
Awesome. I was just pepper sprayed.

— Joshua Trujillo (@joshtrujillo) May 2, 2013
Initially more spectators than participants turned up for the rally, and at first it seemed to be more of a party, according to an Eyewitness News reporter. However, the situation escalated amid reports that police were clashing with some individuals throwing various items, including bottles, at police officers.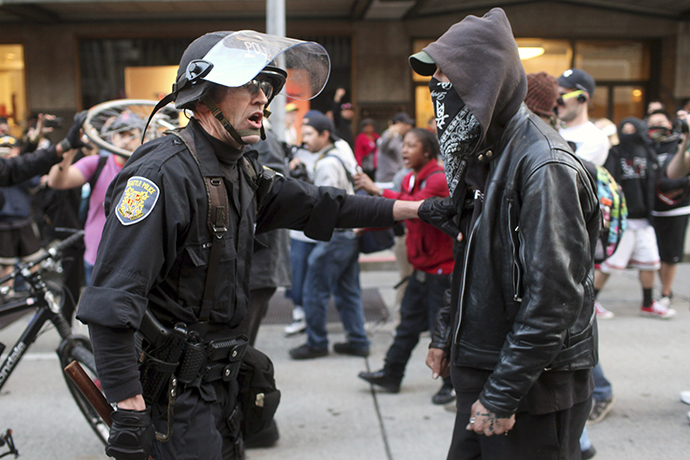 Seattle Police Department (SPD) reported that eight officers had been injured, mostly suffering from minor injuries such as scrapes and bruises. 

The SPD tweeted updates throughout, confirming the usage of pepper spray against protesters, who they reported to be throwing water bottles, using silly string and posting photographs of blocks of asphalt they alleged protesters threw.
PHOTO: Explosion from police munition. Wild scene in downtown Seattle. #Seamayday. #wamayday twitter.com/joshtrujillo/s…

— Joshua Trujillo (@joshtrujillo) May 2, 2013
The flash bang grenades used by the police against protesters emit a loud noise and a burst of light. The Seattle Police Department described them as "blast balls," tweeting that the explosive is a "small firework-like device which gives off a loud bang, a flash & a modest dose of pepper."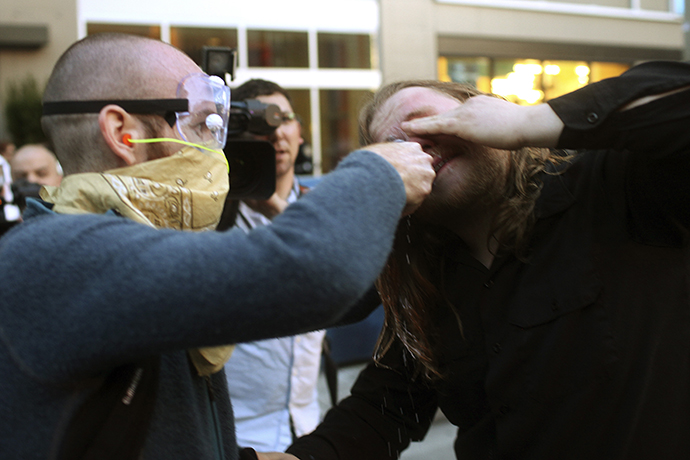 The unrest marks the second year in a row that violence has erupted on during Labor Day protests on the streets of Seattle, after a shop window was smashed to pieces by a demonstrator in 2012.

Participants and supporters have aired disappointment on social media that the point of the earlier protests would be subsumed by news of the clashes.
"This is the only opportunity that poor people, that working people have to voice their opinion," Juan Bocanegra, organizer of the Workers' Rights March, told regional channel, Komo News, on Monday. 

However, there were fears even then that the goals of protesters would be lost amid some anarchist activity and brutal police retaliation.

"If there's people that want to disrupt that opportunity from poor and working people, then their goals and their objectives are totally misplaced," said Bocanegra.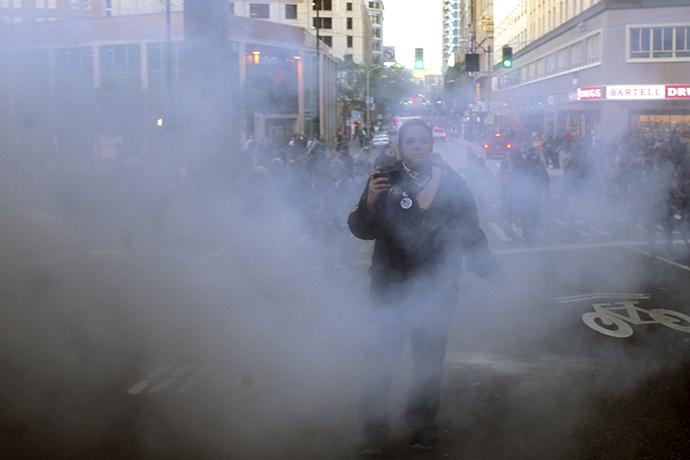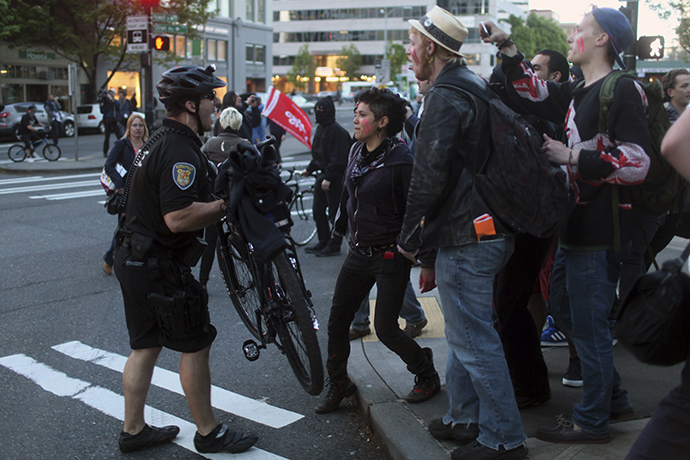 You can share this story on social media: