Russian Labor Day: Rallies, ridicule and revelry as tens of thousands take part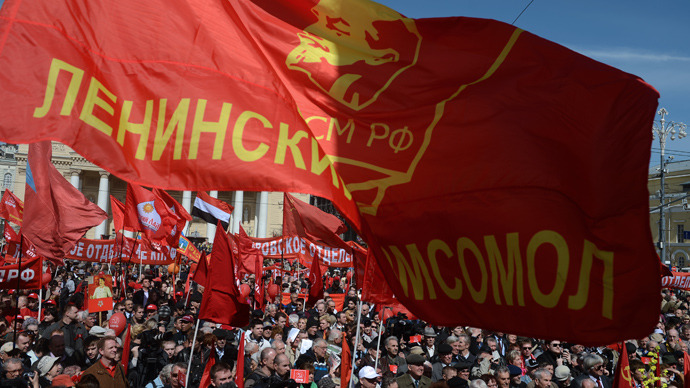 From political demonstrations to humorous mock marches, a single girls' rally, and a retro disco – millions of Russians took part in Labor Day. While parties used the occasion to mobilize their supporters, others simply chose to have fun.
Various events to celebrate the Day of Spring and Labor – a Russian public holiday – have been held in over 1,000 towns and cities across the country.
In Moscow, around 90,000 people took part in a demonstration organized by the ruling United Russia party and trade unions.
"Many joined the event to express their support for the initiatives put forward by the country's President Vladimir Putin and the head of the government Dmitry Medvedev," said Sergey Neverov, the party's general council's secretary, cited by RIA news agency.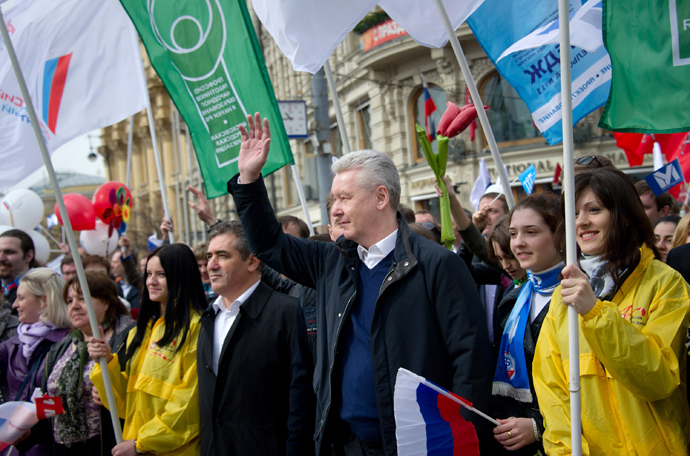 A rally held by the Communist party – the second largest in Russia – had some 4,500 people in attendance- according to police. The party's official website claims though that over 50,000 joined the KPRF gathering, led by the party's long-time leader Gennady Zyuganov.
Waving red banners with the Communist symbol – the hammer and sickle – and portraits of the Bolshevik revolution leader Vladimir Lenin – KPRF supporters marched through Moscow downtown to Teatralnaya Square next to the Kremlin. After the Soviet anthem was played, Zyuganov addressed the crowd, traditionally criticizing the ruling party's policies, including Russia's recent entry in the WTO and unemployment in the country.
"We have a team, we have our history, and we have solidarity in the fight for the interests of workers, for a strong, fair, socialist power, for the revival of our great union state," the KPRF leader stated. "Viva Solidarity! Viva May! Viva Labor! Viva our Victory!" he concluded.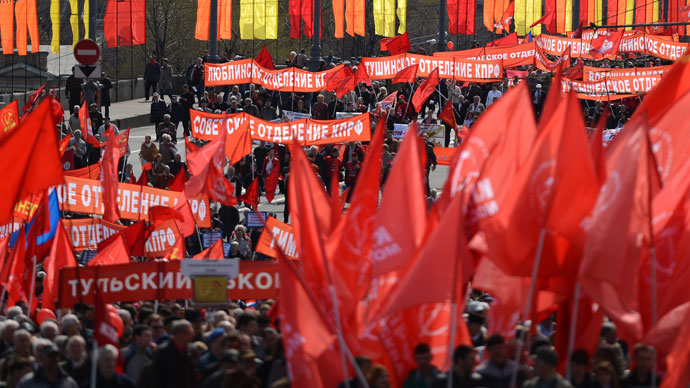 On Wednesday two Moscow parks took note of London's Hyde-park opening in Russia's capital on the premise of allowing public events to take place without special permission from the city's administration.
However, there were political slogans already seen present on the first day of such practice in Moscow. In the morning, supporters of the promotion of European electronic music gathered in the "speaker's corner" in Gorky park. It was followed by a protest against boorishness, joined by only a small bunch of people.
The most anticipated event – Single Girls' Meeting – turned out to be a disappointment for the gapers and reporters who were waiting to see 300 (as it had been announced) lonely ladies. The media has jokingly labeled the event a meeting of single journalists as only about 10 single girls were brave enough to turn up for the meeting. They held small placards with slogans like "Girls don't want to meet a prince, they want to eat everything and never get fat!" or "I don't want to decide anything, I want a new dress!" 

Meanwhile, in Russia's northern capital St Petersburg, up to 150,000 took part in the sanctioned Labor Day demonstration in the city center. The same as in Moscow, the largest column of participants was that backed by United Russia and the local federation of trade unions. They were followed by Communist marchers, and other leftist organizations as well as National-Bolsheviks, anarchists, anti-fascists and nationalists.
The Labor Day march passed through central Nevsky Prospekt down to Palace Square, where United Russia and trade unions held a meeting.  According to news agencies, the festive gathering was slightly marred by a brawl between anarchists and nationalists as a result of which 20 people were detained.  No other major incidents were reported. Liberals and LGBT organizations held their meeting at a different spot in the city center. 
Monstration, or Forward to Dark Past!
Youth in several Russian cities celebrated the Labor Day by holding a parody rally, or "Monstration."
The largest such gathering was held in Novosibirsk, where around 2,000 people joined the absurd extravaganza which is a fun mixture of a carnival, a demonstration and a march. This year marked 10 years since first Monstration was held in the Siberian capital. 
The rally's main slogan was "Forward to Dark Past!" – apparently as an opposite to Soviet-era's "Forward to Bright Future!"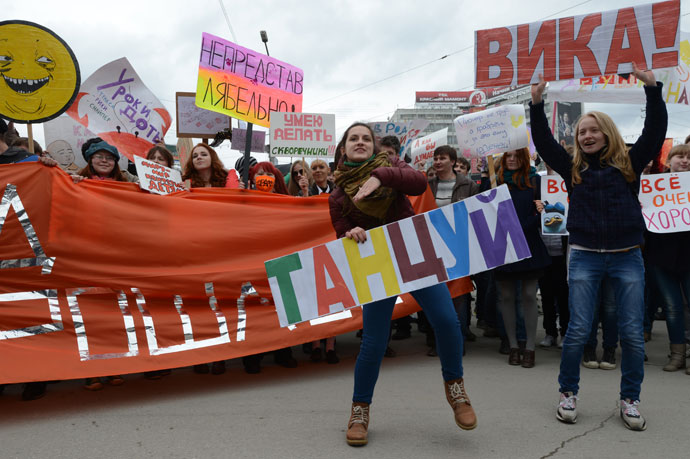 The loud crowd – with some participants wearing costumes of monsters or aliens – carried placards with all sorts of humorous, funny, absurd or satirical slogans. 
One of the girls, for instance, hid her face behind a poster that read "If you're not paranoid, become it!" A placard carried by the guy dressed in a white robe with artificial blood stains stated that he stands for kindness, while another participant's - simply announced that he's got foam plastic. Other "monstrators" demanded "clear slogans" or to "Stop uploading food in Instragram."
In general, the event had no political context. However, participants called for jailed punk rock group Pussy Riot to be freed, a slogan being placed on a truck driving along with the Monstration march.
So-called monstrations were also held in other Russian cities, including Yaroslavl, Krasnoyarsk and Omsk.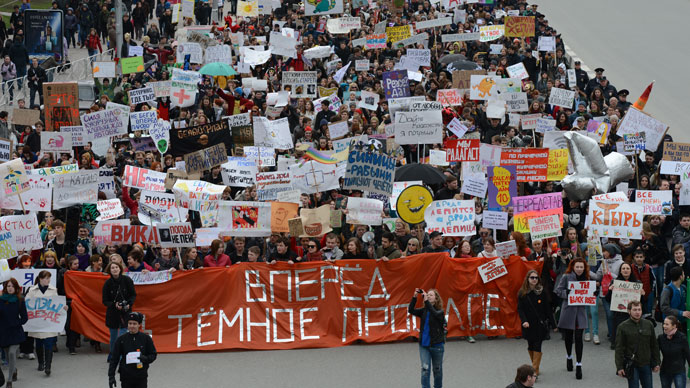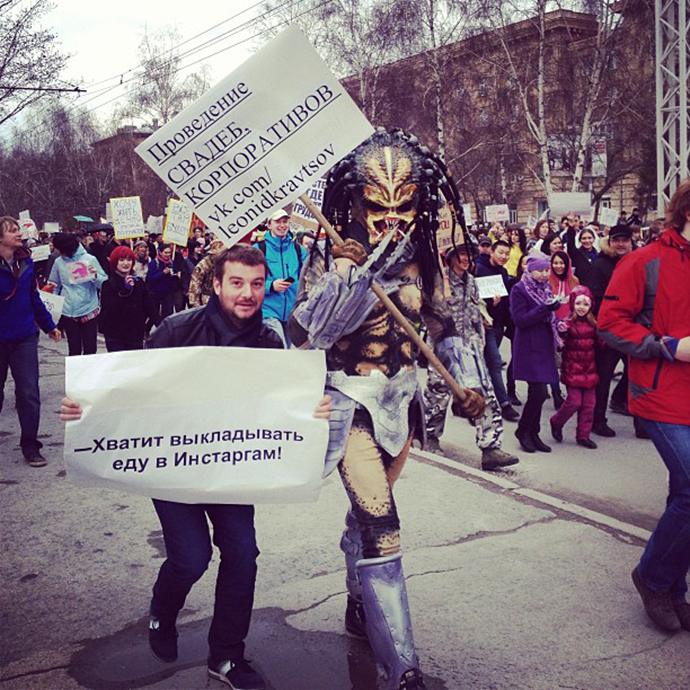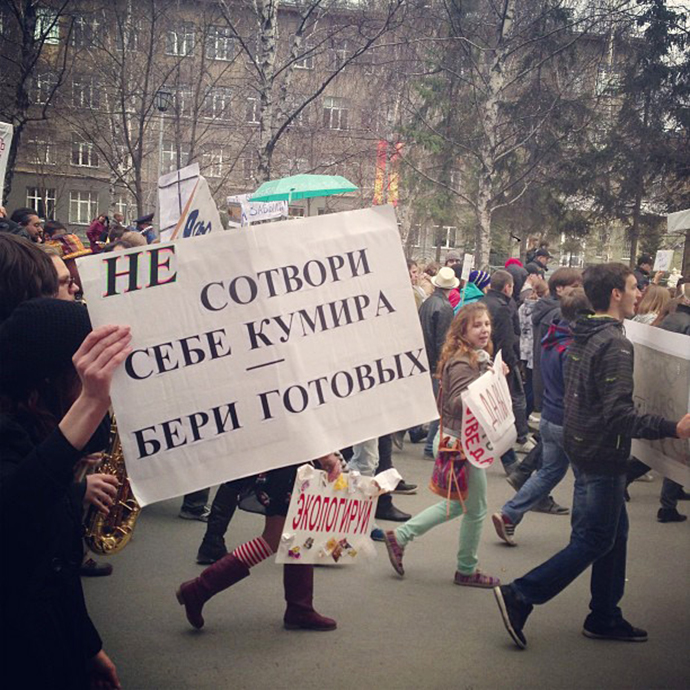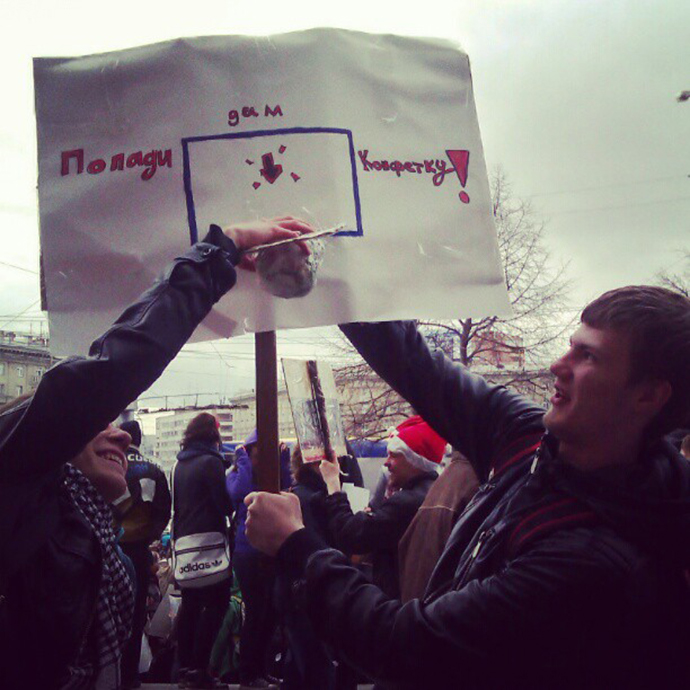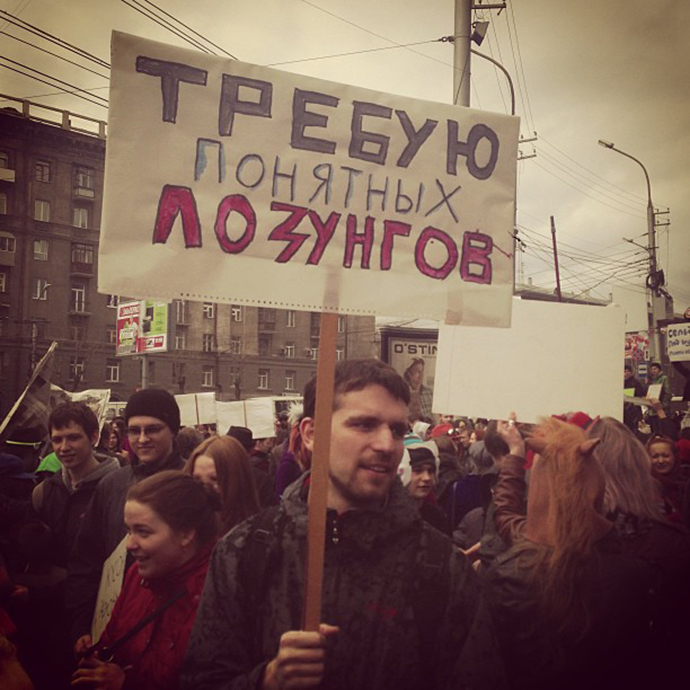 You can share this story on social media: