Teargas, water cannons as police clash with Labor Day protesters in Turkey (VIDEO, PHOTOS)
Riot police in Istanbul have teargassed and fired water canon at crowds trying to get to the city's Taksim Square for May 1 Labor Day Celebrations, injuring about a dozen people with 72 arrests.
Demonstrators carrying International Labor Day banners and chanting "Long live Workers' Day" were trying to get through police lines to Taksim Square when the police used teargas and water cannon to disperse them. Some of the protesters threw stones, metal objects and Molotov cocktails at police lines.

Two policemen have been wounded in the clashes and are being treated in hospital, while 20 protesters have been detained by police, according to a statement by Istanbul's governor. As many as a dozen people were injured during the clashes, according to AFP.
Huseyin Avni Mutlu, the cities governor, said that the clashes had been instigated by "radical groups", of about 3,500 people who attacked the police.

Taksim Square is the traditional site of demonstrations in Istanbul, but this year the governorate refused to give permission to trade unions and youth groups to march to the square, supposedly because of a large construction project in the area.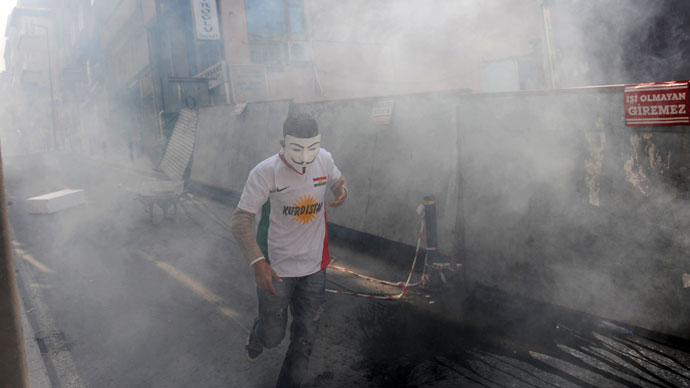 Both the unions and youth groups say that Taksim Square is the historic site of May 1 activities and that they have a right to demonstrate there. Some have been out on the streets of Istanbul drumming up support with posters saying "Bring your Anger, and come to Taksim".
This is Istanbul on May Day! Journalists are trying to work under heavy pepper gas. via @ahmetakpolattwitter.com/aydinonat/stat…

— N. Emrah Aydinonat (@aydinonat) May 1, 2013
22,000 police have been mobilized to provide security throughout the day.
May 1 is a traditional workers holiday across most of Europe, but is especially significant in Turkey. Thirty-four people were killed on that day in 1977 in Istanbul, when a gunman opened fire on demonstrations when Turkey was going through a time of political upheaval. In 1980, the then-ruling junta banned May Day celebrations in Taksim and they were finally reinstated in 2010 under pressure from trade unions.
The authorities decided to shut down some of the cities transport infrastructure. The subway, buses and ferries that connect the European and Asian sides of the city have been suspended, while traffic has been prohibited from certain parts of the city. Streets and roads normally clogged with cars were taken over by tourists.
Security has also been tightened around the office of Prime Minster Tayyip Erdogan, in the Besiktas district, a short distance from Taksim Square.