Satanists unveil 7-foot monument they want to erect at Oklahoma Statehouse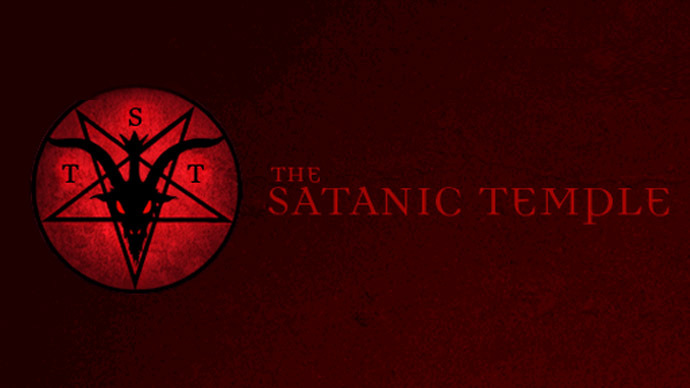 The New York-based Satanic Temple religious group has officially unveiled the design of the statue of Satan it wants to place near the Ten Commandments monument at the Oklahoma state capitol building.
As the sketch of the proposed seven-foot monument shows, the temple hopes to depict Satan as the goat-headed, Baphoment figure, complete with a long beard, horns, wings, and Pentagram design placed overhead. On both sides of Satan are smiling children.
"The monument has been designed to reflect the views of Satanists in Oklahoma City and beyond. The statue will serve as a beacon calling for compassion and empathy among all living creatures. The statue will also have a functional purpose as a chair where people of all ages may sit on the lap of Satan for inspiration and contemplation," temple spokesman Lucien Greaves said in a statement.
Ever since the Ten Commandments monument was authorized in 2012, numerous groups have stated their desire to place statues of their own, including a Hindu leader from Nevada, People for the Ethical Treatment of Animals, and the satirical Church of the Flying Spaghetti Monster.
The Satanic Temple believes that it's not right for Oklahoma to place a monument to the Ten Commandments without offering other groups the same opportunity. State lawmakers, on the other hand, weren't receptive to the temple's new proposal.
"I think you've got to remember where you are. This is Oklahoma, the middle of the heartland," Rep. Don Armes (R-Faxon) told the Associated Press. "I think we need to be tolerant of people who think different than us, but this is Oklahoma, and that's not going to fly here."
"This is a faith-based nation and a faith-based state," Rep. Earl Sears (R-Bartlesville) said back in December. "I think it is very offensive they would contemplate or even have this kind of conversation."
Since the surge of requests by other religious and advocacy groups, the Oklahoma Capitol Preservation Commission instated a moratorium on new requests until a pending lawsuit is resolved. The American Civil Liberties Union is suing in an attempt to remove the Ten Commandments display altogether. Until then, applications – such as the one by the Satanic Temple – can still be submitted but a final decision won't be rendered until later.
The temple has stated it's already raised about half of the $20,000 necessary to construct the monument, which it argues would be constitutionally protected.
"Our monument celebrates an unwavering respect for the Constitutional values of religious freedom and free expression," Greaves said, according to Raw Story. "Satanism is a fundamental component at the genesis of American liberty. Medieval witch-hunts taught us to adopt presumption of innocence, secular law, and a more substantive burden of proof.
"Acknowledging wrongful persecutions has helped shape the legal system that preserves the sovereignty of our skeptics, heretics, and the misunderstood," Greaves continued. "This is to be a historical marker commemorating the scapegoats, the marginalized, the demonized minority, and the unjustly outcast."
You can share this story on social media: