Protecting believers' feelings: Rights watchdog issues proposals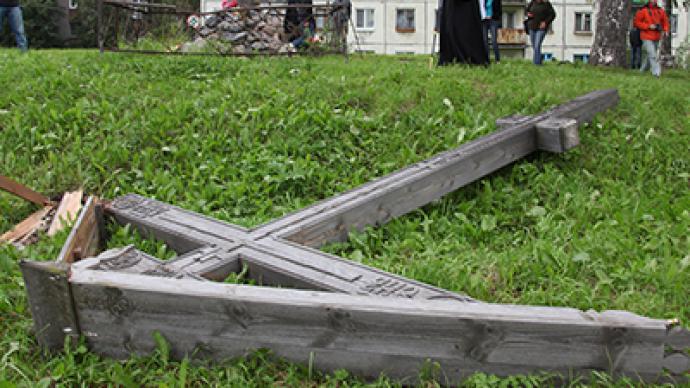 Russia's Presidential Council for Human Rights has outlined its proposals on the highly-debated bill on the protection of religious feelings.
The draft law – submitted to the State Duma in September – sets jail terms for offending believers as well as for vandalism against holy sites.
The human rights watchdog prepared its amendments to the document and suggested introducing criminal liability for "humiliating an individual because of one's attitude to religion," and for the desecration of liturgical books or other subjects of devotion.
Such offenses should be punished with a fine of up to 500,000 rubles (US$ 16,600) or up 100 hours of compulsory community service, the council said in a statement published on its website.
At the same time, rights advocates empathize that the criticizing of religious groups and their representatives, as well as religious beliefs and traditions "is not a violation in itself."
According to the council's chairman, Mikhail Fedotov, there are two ways to counter crimes in religious sphere. The first one is "the protection and promotion of one particular religion," which is traditional in Medieval Law and theocratic states, he told Itar-Tass. The second is the "protection of freedom of conscience" – which has dominated in developed states since the end of the 18th century.
The amendments proposed by the council go for the second option, "as guaranteed by the Russian Constitution," Fedotov added.
The idea of the law on protection of believers' feelings was put forward after Pussy Riot's 'punk-prayer' in Moscow's Christ the Savior Cathedral. The notorious scandal was followed by desecrations of churches and Orthodox crosses by supporters of the band, three members of which were sentenced to jail for hooliganism.
The proposed legislation stirred public controversy, with critics unhappy with vague definition of the crime of "offending religious feelings." Opponents also feared that the bill could be used as an instrument to suppress dissent.
On January 27, the Russian government voiced its conclusions regarding the bill on offending believers and said it requires improvements. Not only does the document replicate existing articles of the Penal Code, it also provides no explanation terms such as "religions that are part of inalienable historic heritage of Russian peoples."
President Vladimir Putin urged Russian lawmakers not to rush the adoption of the draft law and first discuss it thoroughly with experts and representatives of the public.The final proposals are expected to be put forward by March this year.
The Russian Orthodox Church welcomed the lawmakers' initiative on toughening the punishment for insulting believers, saying the existing law is too soft.
"A fine of several hundred rubles for leaving blasphemous inscriptions on walls of a cathedral, mosque or a synagogue indicates that society doesn't quite understand the importance of the protection of human dignity and, in particular, the protection of religious feelings of believers," Patriarch Kirill said in an interview with Interfax.
However, the head of the church underlined that all such laws must be carefully worked through, so that they could not be used for "arbitrary limitation of the freedom of speech and creativity."