Santorum fights his Google problem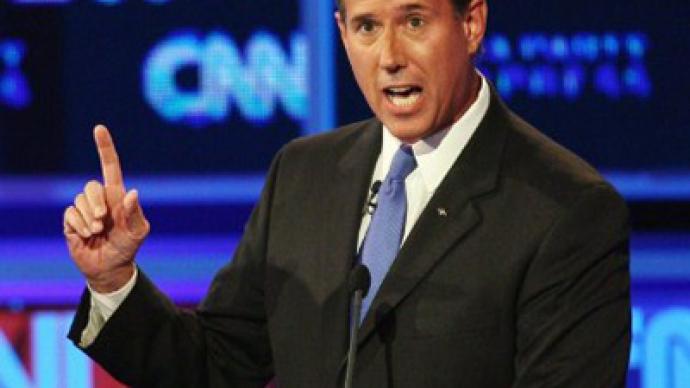 Rick Santorum is sick and tired of being the by-product of anal sex. Well, he's fed up with the Internet thinking he is, at least.
Ever since columnist Dan Savage waged a campaign in 2003 to combat the GOP presidential hopeful's anti-gay agenda, a Google search for Rick Santorum has informed users on the Web that "Santorum" is "the frothy mixture of lube and fecal matter that is sometimes the by-product of anal sex." Now as he continues his campaign with his eye on the White House, Santorum is saying that Google should step up and fix it.Google, however, says he is on his own."To have a business allow that type of filth to be purveyed through their website or through their system is something that they say they can't handle but I suspect that's not true," Santorum said in a statement this week. "If you're a responsible business, you don't let things like that happen in your business that have an impact on the country," he added.And according to the anal-sex by-product — we mean "politician" — Google could damn well do something about it. "I suspect if something was up there like that about Joe Biden, they'd get rid of it," Santorum added.Speaking to MSNBC only three months ago, Santorum said he expected Google to treat his problem the same way they would anyone else. Now, however, he says it's a matter of politics.Google, however, has fired back and says that Santorum has to take it up with the webmaster responsible for spreadingsantorum.com, the site in question that is the number one search result on Google. Responding to his request, a rep from Google reached out to Santorum this week with a statement saying, "Google's search results are a reflection of the content and information that is available on the web. Users who want content removed from the Internet should contact the webmaster of the page directly." Adds Google, "Once the webmaster takes the page down from the web, it will be removed from Google's search results through our usual crawling process."Santorum has always acknowledged his so-called "Google Problem," but has said in the past that Savage "has an opportunity to speak" freely. Savage's campaign was waged after Santorum, then one of the top-ranking Republican senators, told the Associated Press that gay sex could "undermine the fabric of our society" and compared it to pedophilia and bestiality.
You can share this story on social media: