Michele Bachmann compares herself to infamous sodomite, rapist and killer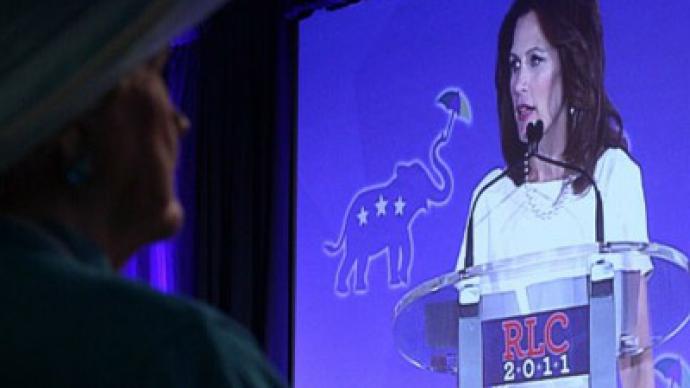 Republican presidential candidate Michele Bachmann was born in Waterloo, Iowa and she wants voters to know that she intends on carrying on the city's tradition of breeding bold, gallant, hometown heroes.
"John Wayne was from Waterloo, Iowa and that's the kind or spirit that I have too," she told Fox News today.The Tea Party prima donna doesn't mean she wants to convey the courageousness of The Duke, though. Well, maybe she does, but that isn't exactly what she said.It seems as if Bachmann confused the iconic American cowboy star — John Wayne — with another American institution: mass murderer, rapist, former KFC manager and children's' entertainer John Wayne Gacy. That's the John Wayne that lived in Bachmann's borough at least, and now the Republican congresswomen is fighting off a frenzy of bad press — only a day after formally announcing her run for the White House.Maybe Bachmann should have done a bit of research before her Monday morning gaffe, and even still, perhaps the legendary Western wrangler wouldn't have been the best choice for a comparison either. John Wayne — or Marion Mitchell Morrison, his birth name — famously made statements to Playboy magazine in 1971 in which he said the "stealing of this country" from Native Americans was "just a question of survival." "The Indians were selfishly trying to keep (the land) for themselves," he told a reporter, before adding that the government didn't owe them anything. That was also the same interview in which Wayne said he believes in white supremacy, "until blacks are educated to a point of responsibility," calling them irresponsible and undeserving of authority or leadership. Oh, and one more thing in that issue: he also revealed his pro-war stance about the Vietnam conflict. And then there was the whole multiple marriages thing, the documented affairs and rumors of alcoholism.Even if The Duke had a handful of skeletons in the closet, at least they were only figurative ones. On the other hand, that John Wayne didn't keep a cache of child bones in his crawl space and never faced a 10-year sentence for sodomy against youths like the Waterloo resident Bachmann bases herself off of.Since the flub, Bachmann's camp has said that the parents of actor John Wayne were from Waterloo, although the entertainer never resided there. If Bachmann intends on filling the shoes of other famous Tea Party female Sarah Palin, she still has quite a few goofs to chalk up.And if she intends on filling John Wayne Gacy's footware, a pair of high-quality clown shoes can be purchased at most magic shops, costume stores and novelty boutiques.
You can share this story on social media: