Tea Party's Bachmann may enter White House race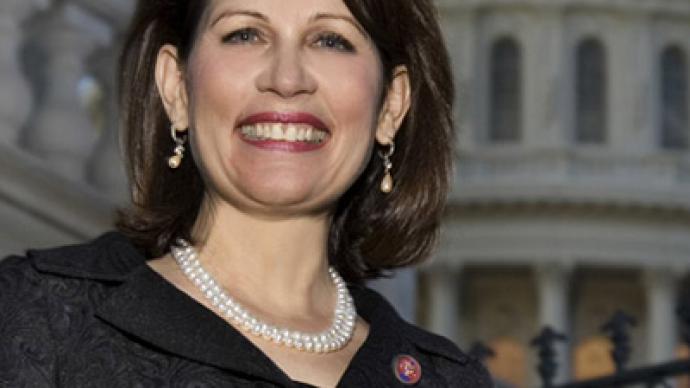 US Republican Congresswoman and Tea Party favorite Michele Bachmann is considering entering the 2012 race for US President, her advisors said.
As a number of politicians begin to tout their name as possible candidates, Bachmann's advisors say a decision may come as early as May. The third-term conservative congresswoman from Minnesota is considering forming an exploratory committee before the initial republican debates scheduled in May, according to advisor Ed Brookover.A number of prominent Republicans have also noted that Bachmann's actions of late point to a possible White house run. The congresswoman was recently in Iowa, a key campaign state, speaking with evangelical groups and home school advocates – key electoral groups for Tea Party and Republican politicians. While in the state she met with many local supporters and politicians, all of which would be happy to run her campaign activities in Iwo if she does indeed enter the race – they have in fact already begun looking for office space in the event a Dem Moines campaign office is required.Bachmann is known not only for her ability to speak and rally great numbers of supporters, she is also a strong fundraiser. For a re-election bid back to Congress she collected $13 million and won easily by 13 percentage points. With her fundraising prowess she has assisted state candidates and committees across Iowa raise cash."I'm in for 2012 in that I want to be a part of the conversation in making sure that President Obama only serves one term, not two, because I want to make sure that we get someone who's going to be making the country work again. That's what I'm in for," Bachmann told ABC News. "But I haven't made a decision yet to announce, obviously, if I'm a candidate or not, but I'm in for the conversation."Her interest in either being a candidate of being heavily involved bas been noted by many. Bachmann is not the only Tea Party favorite mulling a Republican presidential bid. Former US Speaker Newt Gingrich has expressed interest, as has former Minnesota Gov. Tim Pawlenty, who recently created an official exploratory committee. Even freshman senator Rand Paul and long time Congressman Ron Paul have expressed interest in entering the race. And not to be forgotten, former Alaska Governor Sarah Palin has yet to indicate her intentions for 2012. Thus far few details have been made public on most potential campaigns, but in Bachmann's case her staff has said a decision will be made sooner than later.
You can share this story on social media: