Hurricane Sandy dumped 11 billion gallons of sewage into New York water
Published time: 1 May, 2013 00:06
Edited time: 1 May, 2013 02:19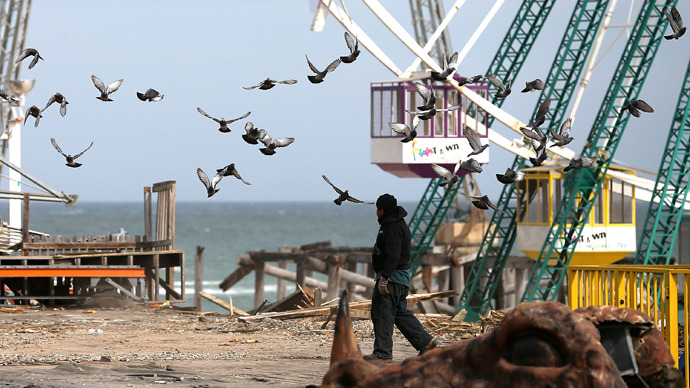 Along with destroying homes on the New Jersey and New York waterfront and leaving parts of New York City powerless for weeks, Hurricane Sandy exposed the vulnerability of the region's sewage system by dumping billions of gallons of waste into the water.
The study, released Tuesday from Climate Central, revealed that some 11 billion gallons of raw and partially treated sewage were introduced into the water surrounding New York and New Jersey as a result of Sandy-induced damage. There were also six sewage spills larger than 100 million gallons in Gotham alone. 
Almost all of the damage - 94 per cent - in New York was blamed on overflow in area sewage plants, located in low-lying areas so gravity is able to pump and treat wastewater. Some facilities were shut down by power outages while others were completely swamped by floodwater. New York City will have to spend roughly $2 billion to repair the plants, according to the New York Observer. 
"Our sewage infrastructure isn't built to withstand such surges, and we are putting our property, safety and lives at risk if we don't adequately plan for these challenges," report author Alyson Kenward told the Village Voice. "Sandy showed the extreme vulnerability of the region's sewage treatment plants to rising seas and intense coastal storms." 
Hurricane Sandy killed 159 people and caused $70 billion in damage across eight states, each of which was affected by sewage overflow. 
Kenward told the New York Daily News that residents should have little to fear regarding long-term health effects because the sewage becomes less threatening as it dissipates through the water. The environmental effects, however, are yet to be seen. 
Enough sewage leaked to completely cover Manhattan's Central Park and fill it eleven feet high, the report noted. One of the worst affected stations was Bay Park Treatment Plant on Long Island. 
"The storm left this coastal plant completely out of operation for at least 42 hours after the storm," the authors wrote. "Since the tidal flooding was so severe, operators were unable to provide even conservative estimates to the amount of non-salt water that escaped the plant. However, based on average daily flows through the plant, we estimate that at least 104 million gallons of untreated sewage overflowed into Rockaway Channel." 
Last year, six months before Hurricane Sandy ravaged the eastern coast of the United States, Climate Central's Dr. Ben Strauss testified before the Senate Energy and Natural Resources committee that because sea levels have risen nearly a foot since 1880, only a small bit of water – or sewage – could doom someone's home. 
"Just a few extra inches could mean the difference to flood a family's basement, or New York City's subway system, disabling it for months," he said.