Chicago sinkhole swallows 3 cars as Illinois gov. declares emergency over flooding (PHOTOS)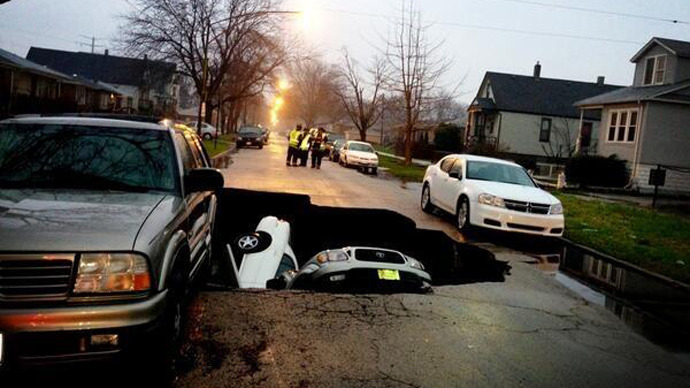 Illinois Governor Pat Quinn has called a state of emergency after widespread flooding hit the northern part of the state. More heavy storms are expected. Earlier Thursday, a sinkhole swallowed three cars in Chicago, injuring one person.
"Heavy rainfall over the past few days has created dangerous flooding in areas across the state," Quinn said in a statement. "Everyone should stay home and off the roads if possible. To ensure safety as these storms continue, people should be alert and avoid flooded areas," he added.
According to a news release, the state of emergency ensures that state resources are activated and that the federal government is aware that a disaster declaration is likely. It also allows the state to request resources as needed.

Quinn said that a hospital in the town of Morris had to be evacuated, as well as two trailer parks which are currently under water. Residents have lost whole rooms of belongings, he said.
Earlier Thursday, a Chicago sinkhole swallowed three cars. One person was rescued from the hole, and is currently in serious-to-critical condition at Northwestern Memorial Hospital.
Rescue services responded to the scene around 5:30am local time, when two cars were inside the hole. A third one slid into it after crews arrived, WGN-TV reported.
Pavement and third car just went into #sinkhole. @wgnmorningnews#chicago. twitter.com/NancyLoo/statu…

— Nancy Loo (@NancyLoo) 18 апреля 2013 г.

Officials would not confirm whether the sinkhole was caused by the inclement weather.

Three to five inches of rain fell on Wednesday and overnight. The storms forced the cancellation of more than 300 flights and closed hundreds of schools in the Chicago area. The rain waters closed nearby expressways during morning rush hour on Thursday.

Evacuations have begun to take place along the Des Plaines and Fox rivers, the Chicago Tribune reported.
The Chicago Transit Authority reported delays or stopped trains on eight of its lines. Many city buses were also rerouted.

In the town of Elmhurst, Acting Mayor Scott Levin declared a state of emergency. He cited flooding, severe sewage backups in homes, overwhelmed resources, and emergency personnel staffing. Elmhurst is located 20 miles west of Chicago.

A high school in the northern suburb of Libertyville sank a foot into the ground, according to the local Fire Department. No injuries were reported.

The National Weather Service has called the situation a "very serious and potentially dangerous flood situation" and advised people to stay home.