Feds do not consider San Onofre nuclear powerplant safe
Published time: 27 Dec, 2012 19:20
Edited time: 28 Dec, 2012 04:11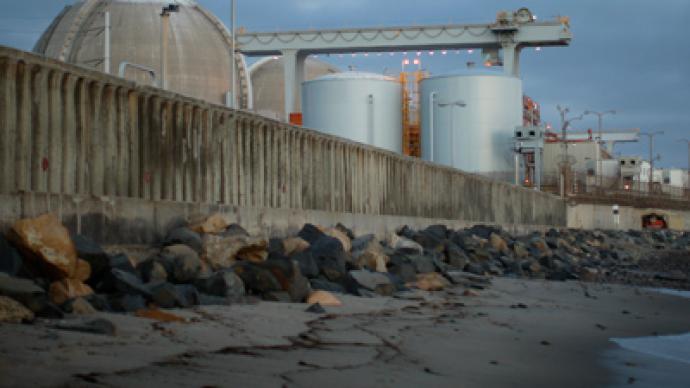 Federal regulators have expressed significant concern about the safety of the San Onofre nuclear power plant, asking for more analysis on its damaged steam generators and requesting the plant to be able to run safely at full capacity.
The power plant has been inactive since January, when a radiation leak led to the discovery of significant damage on many of its generator tubes. Many worried that the dangerous conditions at the plant could lead to California's own Fukushima-like meltdown. Southern California Edison, which runs the plant, has since asked for permission to restart one of its twin reactors, Unit 2, at 70 percent power, which the company claims will end the vibration and friction that eroded the generator tubes.
If the plant's unit is restarted at 100 percent capacity, it may not be considered safe enough to stay open. But the Nuclear Regulatory Commission (NRC) on Wednesday said that the tubes must retain "structural integrity" during "the full range of normal operating conditions" in order to pass inspection, the Associated Press reported. If the San Onofre plant is evaluated under such conditions, it may not receive permission to restart again.
An NRC evaluation of such conditions could trigger a longer review that will keep the plant inactive for many more months. The commission also asked Edison to explain how generator tubes would interact with each other if the plant operates at 100 percent capacity, as well as several other detailed questions that will help commissioners evaluate the feasibility of a partial restart.
Failure of the generator tubes could release radiation, which has spurred environmental activists to lobby against a partial restart of the plant. Friends of the Earth, a group that has repeatedly criticized the nuclear power industry, has long pushed for the NRC to require Edison to seek an amendment to its operating license to restart the plant. Such an amendment would force Edison to undergo judicial-style hearings before it can restart, which could easily take two years.
"Edison's design errors have led to the multi-hundred million-dollar failure of brand new equipment which has in turn endangered the lives and livelihoods of millions of people in Southern California," the environmental group wrote in a press release in November.
Friends of the Earth Spokeswoman Kendra Ulrich told AP that the group is "encouraged that the NRC is asking hard questions." The federal regulators have often come under scrutiny for ignoring and brushing off safety concerns and complaints about dangerous conditions at power plants across the nation.
The San Onofre power plant, which used to supply power for 1.4 million homes, has been a particularly expensive failure. The plant spent $670 million on an overhaul in 2009 and 2010, only to discover the corroded generator tubes in early 2012. Decaying generator tubes also forced the plant to shut down its Unit 1 reactor in 1992, even though it was designed to last until at least 2004.