Western media having trouble with Rourke's love life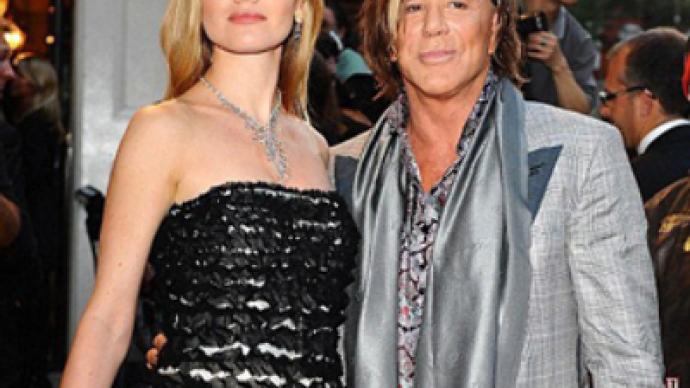 Hollywood actor Mickey Rourke, 57, is allegedly planning to marry 24-year-old Russian model Elena Kuletskaya, and was also pet shopping with her in New York, reports Western media.
However, the West seems to have lost track over Rourke's romantic adventures.
Rourke was rumored to have been in a relationship with the Russian blonde Elena Kuletskaya for a few months. Recently, messages that he proposed Kuletskaya over dinner last week appeared in the New York Post's "Page Six". According to the Post, "The star has told friends he is planning a Moscow wedding in April."
The New York Post reports having spoken with Rourke's friend, who said that "They have not booked a venue or made any solid plans. He just knows he wants to do it in April, and he has been asking what is involved in a traditional Russian wedding ceremony."
Meanwhile, the Daily Mail has published photographs allegedly picturing Kuletskaya and Rourke puppy-shopping in NYC, but the British paper seems to have a bad eye on Rourke's blondes: the girl in the pictures is definitely not the Russian model.
Kuletskaya, the ex-girlfriend of Russia's pop singer Dima Bilan – winner of Eurovision 2008, would say that the girl and "The Wrestler" star are just friends.
Rumors were also growing around the girl's name in Russia, as she was said to have dumped Russian pop star Dima Bilan for Rourke. Back in 2008, Dima Bilan said that, if he won Eurovision, he would marry Elena.
In September, Rourke appeared accompanied by Kuletskaya to pick up the GQ Man of the Year award at London's Royal Opera House. They were also spotted together in several night clubs in NYC and London.
However, if Rourke is indeed planning a marriage, it will be his third time at the altar. Mickey Rourke and his first wife Debra Feuer broke up their eight-year marriage in 1989, while in 1992, he married "Wild Orchid" co-star Carré Otis, whom he stayed with until 1998.