Ron Paul still in the race with millions in funding and zero debt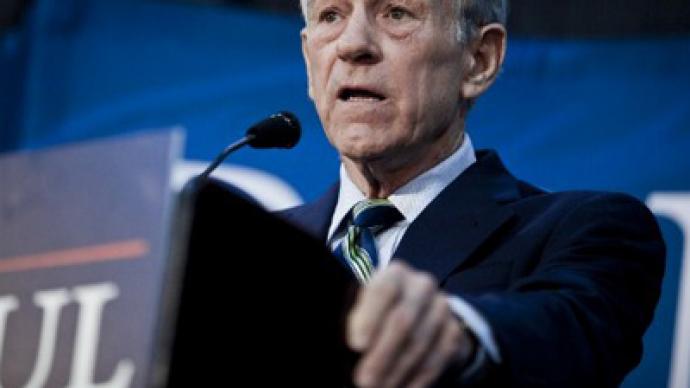 First Rick Santorum slipped out of the race for the GOP nomination, and next Newt Gingrich said he would support Romney but would still run. But what about Ron Paul's quest for the White House?
According to the latest bulletin from the campaign headquarters of the Texas congressman, Ron Paul is still in the race and rolling in the bucks.Republican Party presidential hopeful Ron Paul is still polling strong among many demographics and shows no sign of slowing down. At least if his bank records have anything to do with it. The candidate's camp announced on Friday that so far in 2012 his campaign has managed to bring in almost $10.4 million in contributions from donors determined to keep the congressman in the GOP race. Those funds won't be funneled to pay off earlier spending, either. His officials say that in addition to the big bucks that came in for the first quarter, the Ron Paul campaign has zero debt at this point in the race. Compare that to Republican Party rival and former House Speaker Newt Gingrich who was reportedly in the hole to the tune of $4.5 million last week, according to an article published by Slate. As Ron Paul and Gingrich are now left as the only viable Republican alternative to Mitt Romney, Gingrich's chances might soon run dry as his pocketbook does the same. Will Paul have a chance to pull through against the frontrunner, though?"Total contributions of $10.4 million in Q1, including details such as $1.8 million cash on hand and more money bomb cash in the pipeline, amounts to excellent news as these resources fuel our effective delegate-attainment strategy," campaign chairman Jesse Benton tells supporters in a press release published Friday.Benton adds that he doesn't expect to see a slump anytime soon, either. Next month Ron Paul will be put to the test in Texas, where he has served several terms as a state congressman. On May 29, residents will vote in the state's primary."These ample funds also will help us compete even harder in Texas, where Ron Paul is the only Texan, veteran, and authentic conservative running," Benton says Friday of the candidate's continuing success. Aside from a fat wallet, Ron Paul's team says that the departure of Santorum from the race opens up new opportunities for their candidate to collect delegates, a maneuver that has been an unusual yet well orchestrated move so far in the campaign."We are fighting really hard in many states on our convention strategy," Benton tells US News & World Report. "The exit of Santorum has opened up any more delegate opportunities for us.""I am not going to try to deceive you, and say that Romney doesn't have some advantages," Benton says. "But until he has 1,144 delegates, we are going to press on with our campaign."Speaker Newt Gingrich is also still campaigning, but last week his campaign bounced a check for $500, reported CNN. Since then he has been resorted to renting out his campaign's donor list in order to dig himself out of the hole.
You can share this story on social media: