Santorum inspires porn stars to launch masturbation campaign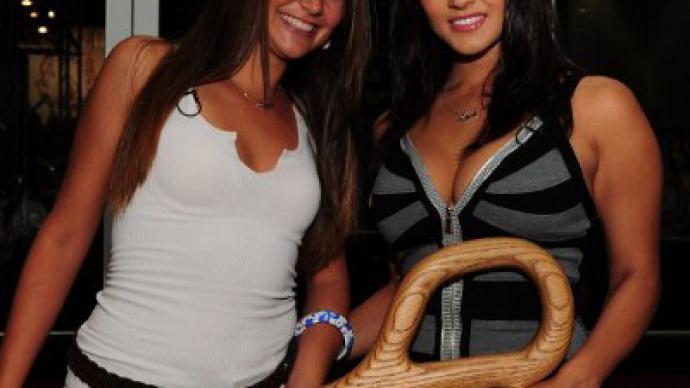 Former Pennsylvania Senator Rick Santorum promises to wage a war on porn if elected to the Oval Office, but the GOP contender's commitment is quickly producing challengers. Now the adult film industry says it's their turn to rally against Rick.
Republican Party presidential hopeful Rick Santorum has blamed pornography for having "profound brain changes" on Americans and insists that the adult film industry is spawning "a pandemic of harm" that's destroying the country. Last month Santorum swore that, if elected, he would abolish hardcore pornography in the US. Some of those performers threatened by the potential president are now responding, though, and want to wage a war of their own against the senator.Jest.com, in cooperation with the porn production house Vivid Entertainment, has released a quirky clip that shows some of the biggest actors and actresses in the industry attacking Santorum over his stance on X-rated entertainment. In a clip released this week called "Porn Stars Against Santorum," several performers attempt to raise awareness of the candidate's plot to pull the plug on one of the biggest industries in America and urges voters to ensure that the senator is stopped from winning the race to the White House.[Click here to watch the video on Jest.com]"If elected, Santorum has vowed to prosecute our industry on infrequently enforced obscenities laws," explains adult film actress Chastity Lynn. Allie Haze, a fellow performer, responds, "but as porn stars and Americans, we can't let that happen."First Amendment advocates and pro-porn fanatics from both inside and outside of the industry have attacked Santorum since he made his pledge to end porn last month, but Lynn, Haze and others are now publically calling out the candidate and are proposing a counter strike next month on May 1 as part of a campaign being called "Wank Out 2012.""Together we can enfranchise ourselves through the power of incessant masturbation," explains Lynn, a 25-year-old Vivid entertainer that has performed in over 150 titles, including two installments in the Anal Acrobats series and Watching My Daughter Go Black 5. It's without a doubt an unorthodox form of protest — and arguably not all that serious — but Wank Out 2012 so far looks to be snowballing towards success. In just a matter of hours, the Jest.com video clip has been globally circulated and has garnered coverage internationally. Also continuing to make the rounds, however, is Santorum's own statement on the dangers of pornography. In calling for a war on the industry last month, the senator said adult entertainment "is toxic to marriages and relationships" and called it a contributing factor in misogyny, violence against women, prostitution and sex trafficking. That was far from the first time Senator Santorum spoke out against pornography, though. Last year he signed a pledge created by the conservative Christian group The Family Ledger promising to ban "all forms of pornography and prostitution, infanticide, abortion and other types of coercion or stolen innocence."At the time, Santorum spokesperson Virginia Davis explained to CNN, "Senator Santorum was pleased to sign the Iowa Family Leader's pledge because he is committed to standing up for traditional marriage. The bigger question here is why aren't more Republicans having the courage to stand up for the institution of marriage and signing this pledge?" Michelle Bachmann also inked her name to the promise.With Bachmann long out of the race and Santorum still considered by some to be a viable GOP candidate, porn actors and actresses are hoping that their new campaign will keep films like Anal Acrobats (the whole series, even!) on the shelves of adult video stores. "Besides," actress Chanel Preston asks Santorum in the new clip, "what are you going to do? Erase all of the porn?"Steven Hirsch, founder of Vivid Entertainment, adds to the UK's Daily Mail that Santorum's plot to prohibit pornography is "ridiculous" because "legislating morality never works." Earlier this year, legislators in Los Angeles, California added to the books a law that forces LA-produced porn to keep their actors clad in condoms, to which Hirsch told the Times was only another attempt at breaking down the biz that would fail."We will continue shooting the movies, and if that means outside of the city of Los Angeles, so be it," said Hirsch."I wish people would stop seeing us as immoral monsters, and understand that we struggle with the same problems lots of other Americans struggle with right now," actress and producer Joanna Angel adds to the Daily Mail. "At this point- we're all just trying to keep our jobs. We are already hurt economically by not being allowed to be sold on iTunes, Netflix, or Amazon – do you really need to threaten to take away the few areas of distribution we have left?"Before the Jest/Vivid clip concludes, the performers urge their audience to vote Romney, but not before Chastity Lynn recalls, "Wait — Romney is a Republican dickhole too."Given that logic, co-star Haze says maybe Americans should in fact vote for Santorum, "because if he wins the primary, he would definitely get crushed by Obama.""And Obama would never try to stop the porn industry," adds Lynn.Wank Out 2012 is slated to occur from coast-to-coast May 5, 2012 at 8 p.m.
You can share this story on social media: