Ron Paul unveils libertarian think tank (VIDEO)
Published time: 18 Apr, 2013 16:31
Edited time: 18 Apr, 2013 18:06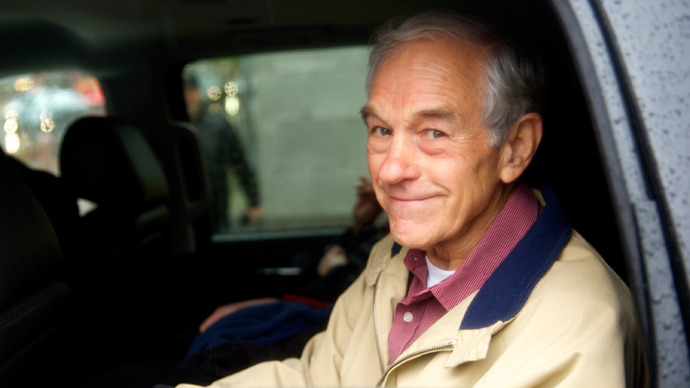 Although Ron Paul retired from politics, he hasn't left the conversation: the former Texas congressman has launched his new think tank – an institute that will carry on his ideals to the younger generations.
"If we have no more wars, we'll be successful," Paul told a crowd of reporters after announcing the launch of the Ron Paul Institute for Peace and Prosperity on Wednesday. The think tank will take a hard look at key political issues, including the future of freedom and the human race, and US domestic and foreign affairs. Its main argument is that war and poverty go hand-in-hand, while peace and prosperity also come together.

The institute's website will publish news analyses, encourage young Americans to write about 'key issues of our time', and take a stand "for peace, a peace that is intricately connected to justice, shared human values and prosperity… that leaves us safer than the empty lies of the warmongers."


The website, ronpaulinstitute.org, will also feature congressional scorecards that will grade and assess votes and rank lawmakers on their support or opposition to peace.

Now that the 77-year-old has retired from Congress, he has greater freedom to focus on garnering support for his ideals among the American people, he told RT's Meghan Lopez.


"When I was on the inside, I was really on the outside – I was not what the leadership called a 'team player'. And I was always talking to somebody outside with the whole idea of reaching people," he said.

Some current and former lawmakers are joining the Ron Paul Institute for Peace and Prosperity, including Rep. Walter Jones (R-N.C.), Rep. John Duncan (R-Tenn.), and Rep. Thomas Massie (R-Ky.) and former congressman Dennis Kucinich (D-Ohio).

Kucinich, who will serve on the institute's board, said his views have aligned with Paul's ever since the War in Iraq, which both former congressmen disagreed with.

"Then we started to compare notes on a whole range of issues dealing with international relations and interventions and then civil liberties and the Fed," Kucinich told reporters. "So the affinity that Ron Paul and I have demonstrated, through our standing shoulder to shoulder on a range of issues over the years, really stems from this love of country, which knows no political boundaries and knows no ideology."

Duncan, who voted for the Iraq War, experienced a drastic change in opinion over the years and is now championing Paul's efforts to avoid other wars.

"I will go to my grave regretting that vote," he said at the launch of the institute. "The reason that this Ron Paul Institute is critical is because I do not know where the conscience is in Washington anymore… war is something that is just accepted, but never debated. 'It's your son that's dying, not my son.'"

The announcement of Paul's think tank comes about two weeks after the launch of the Texas Republican's homeschooling curriculum for students K-12, which he said will "play a significant role in the revolutionary reforms needed to build a free society with constitutional protections."

It has only been a few months since Paul left Congress, but his influence is likely to continue as the former lawmaker builds an ideological foundation targeted to reach out to kindergarteners and adults alike.

"War is the health of the state, [and] peace is the health of the people," he said.