'Romney stressing military solutions to Middle East'
Published time: 27 Oct, 2012 00:03
Edited time: 27 Oct, 2012 04:03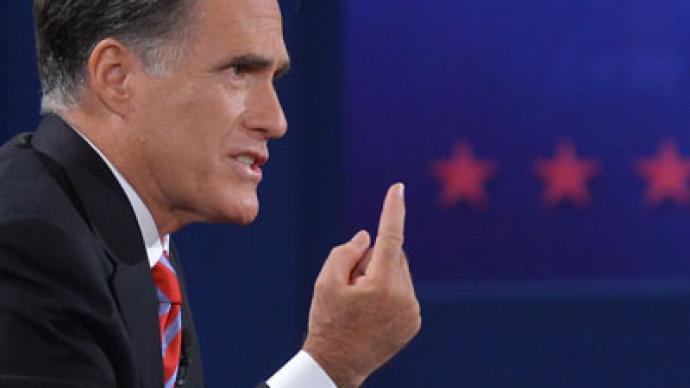 While Barack Obama and Mitt Romney express agreement on most of issues regarding US foreign policy, the Republican seems far more willing to support Israeli offensive actions if elected president, analyst John Feffer told RT.
­The major difference between Obama and Romney is their "comfort level" with Netanyahu and his warmongering towards Iran, John Feffer of think tank Foreign Policy in Focus said.
And following the foreign policy debate with President Obama, the latest polls show Romney has taken a slight lead in the race for the White House.

RT: So why has Romney managed to edge ahead after the debate?
John Feffer: As we have seen, Mitt Romney demonstrated that he could talk in the debate. That was in the first debate, and he has not made any major gaps, and I stress major. Of course there have been minor gaps but nothing that has eliminated him as a potential candidate. So, I think his performance in the debates has been the major reason why he has closed the gap with the President Obama.
RT: The last debate was on foreign policy. Critics say Obama and Romney show no differences in their stance on Iran. But they both claim they do differ. What do you make of it?
JF: There are, I would say, some significant differences between the two candidates. Mitt Romney, even though he does talk about diplomacy, has put the stress on military solutions, and that there is absolutely no daylight between him and Netanyahu. The president, of course, has put more stress on diplomacy, and I think he means that when he says it – and of course, we have the possibility of bilateral negotiations with Tehran right after the election.

And although the president says there is no daylight – factually speaking – between him and Netanyahu, we know that there is and that the two leaders are uncomfortable with one another. So there, we have a major difference between the president and Mitt Romney: their comfort level with Netanyahu and their comfort level with diplomacy with Tehran.

RT: Will we see a change in policy over Syria after the election?
JF: I do not see that we'll see a major change. As you have pointed out in earlier reports, the American public is certainly not ready for any major US commitment on the ground, or any other significant way, in Syria. So I do not think that the president or Mitt Romney, if he got elected, would execute major or significant change in American foreign policy toward Syria. Of course, if the situation substantially changes on the ground that might force the hand of anybody in Washington – and that is hard to predict.

RT: Despite the US pushing for democracy, the Arab Spring has seen some unexpected elements come to power, many seen as anti-Western and linked to terrorism. How will Washington determine who to do business with?
JF: I think the Obama administration has made a critical decision, an important decision, to work with what it perceives as the moderate Islamist elements in the region, the Muslim Brotherhood for instance in Egypt. I think this was a wise choice – I think it acknowledges that moderate Islamist positions have a great deal to do with popularity in the region, not just in Egypt but in other parts of the region. And this, I think, kind of represents a significant block in the region that prevents more extremist alternatives of whatever alternative nature. 
I think this is the decision that Washington has made. There has been criticism of course from Republicans, from challengers here in the Romney camp, that the president has essentially given in to Islamists in the Middle East. But I think this is an incorrect reading. The situation shows that the Republican Party elements of this don't understand wellsprings of popular sentiment in the Middle East, both before the Arab Spring, during the Arab Spring, and now after the major events of the Arab Spring.