#StopNDAA - What Obama and Romney didn't touch on during the debate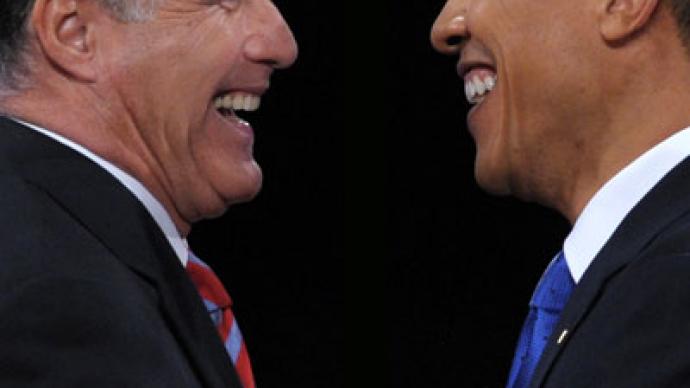 The defense bill that lets the government indefinitely detain any US citizen without charge or trial wasn't mentioned once during the three presidential debates, but that didn't stop activists from sounding off: #StopNDAA went worldwide Monday night.
A campaign aimed at drawing awareness to the National Defense Authorization Act for Fiscal Year 2012 and a draconian provision that provides the government the power to lock-up any person on mere suspicion of terrorist ties succeeded during Monday's third and final presidential debate. "#StopNDAA" was among the most popular hashtags included in messages sent over Twitter Monday night, at one point entering the list of top worldwide trends.The action was coordinated thanks in part to a grassroots campaign orchestrated by Revolution Truth and Demand Progress, among others, advertised through StopNDAA.org and endorsed by thousands of activists across the globe. "Both parties are colluding in denying you your First and Fifth amendment rights under the 2012 National Defense Authorization Act, and both candidates refuse to discuss this bipartisan assault on civil liberties," a message posted on the Stop NDAA website reads. Elsewhere on the site, examples of sample tweets were included alongside information about the annual Pentagon spending blueprint that was drafted last year to include a provision, Section 1021, that affirms that the president can use military force to imprison any person considered to have "substantially supported" a terrorist group engaged in hostilities against the US or its allies. Under the law, though, the commander-in-chief can also lock-up any individual until a vaguely defined "end of hostilities" without ever being required to try them in a court of law."When Congress passes a law that is so vague, [it] always has a chilling effect on everyone's speech and that is not permitted under our Constitution," attorney Carl Mayer told RT earlier this year. "You can't chill a journalist's speech; you can't chill your speech or your colleague's speech or your producer's speech or other journalists who you work with by holding a Sword of Damocles over your head by threatening you of being detained by the military. That is something that you have a fundamental right to be protected by."US President Barack Obama inked the NDAA on December 31, 2011, including with his signature a signing statement that acknowledged he had "reservations" about the indefinite detention provision, but would put the bill into law regardless. Pulitzer Prize-winning journalist Chris Hedges filed a federal lawsuit against the White House in response, to which he is now joined by co-plaintiffs Alexa O'Brien, Tangerine Bolen and others under the legal guidance of Mr. Mayer. Judge Katherine Forrest for US District Court in Manhattan sided with the plaintiffs' claim that Sec. 1021 was in violation of the US Constitution and granted a permanent injunction finding that part of the NDAA illegal, but the White House asked an appellate court to place a stay on her ruling, effectively allowing the Obama administration to enforce the indefinite detention provision despite the federal judge's order."If the Obama administration simply appealed it, as we expected, it would have raised this red flag," Hedges told an online audience during a question-and-answer session hosted on Reddit.com last month. "But since they were so aggressive it means that once Judge Forrest declared the law invalid, if they were using it, as we expect, they could be held in contempt of court. This was quite disturbing, for it means, I suspect, that US citizens, probably dual nationals, are being held in military detention facilities almost certainly overseas and maybe at home."During Monday's debate, social media accounts associated with the Anonymous hacktivist movement and several noted journalists including Bolen and O'Brien were among the many that attempted to make a splash Twitter.
You can share this story on social media: