US lawmakers call for review of Washington Navy Yard suspect's security clearance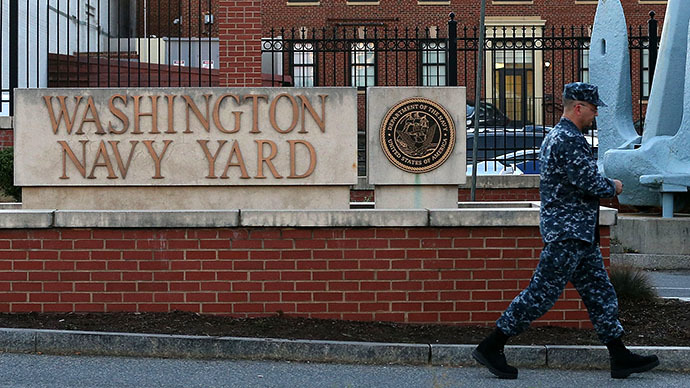 US lawmakers are demanding a review of how the suspected shooter in Monday's attack on the Washington Navy Yard maintained a security clearance despite numerous violent incidents and run-ins with the law.
Aaron Alexis, the suspected gunman who allegedly killed 12 people before being shot dead by police, received a security clearance five years ago, helping him obtain his most recent job with The Experts Inc - an information technology company that hired him to work on the Navy Marine Corps intranet.

US Senators Claire McCaskill and Jon Tester will send a letter to the inspector general of the Office of Personnel Management (OPM), seeking answers surrounding the suspect's background check that led to the clearance.

OPM handles oversight of most federal background checks.

"I want to know who conducted his [Alexis'] background investigation, if that investigation was done by contractors, and if it was subject to the same systemic problems we've seen with other background checks in the recent past," McCaskill said in a statement to Reuters on Tuesday.

The senators want to know "how Mr. Alexis' background investigations addressed his pattern of misconduct, including his reported arrests on charges relating to firearms in 2004 and 2010" and a previous disorderly conduct charge.

"In general, background security clearance investigations include information about an individual's criminal history, including criminal records, and that information would be passed on to the adjudicating agency," Mert Miller, associate director of federal investigative services at OPM, said in a statement.

Sen. Tester said that Monday's shooting may draw attention to legislation he sponsored which is aimed at strengthening security clearances after NSA contractor Edward Snowden leaked classified documents to news outlets revealing the National Security Agency's mass spying programs.

The legislation would give the OPM inspector general more funding and power to audit background check procedures and punish anyone found to have falsified background reports.

"This isn't going to stop if we don't start taking some proactive policy measures," Tester told Reuters. "It looks as if the background checks are less thorough; it looks like corners are being cut with Snowden and now Alexis."

The shooting incident has prompted US Secretary of Defense Chuck Hagel to seek a report on American military installations around the world. A senior Pentagon official said that Hagel will work with senior officials to create a process for a review, which may be formally announced as early as Wednesday, The Hill newspaper reported.

Alexis' initial background check came about as part of his service in the US Navy Reserve from May 2007 to January 2011.

OPM conducted the check in August 2007 and deemed him eligible to handle "secret" material in March 2008. A defense official said Alexis' vetting included local police checks and a credit check.

This background check came after Alexis was arrested in Seattle in 2004 for shooting out the tires of a vehicle in what he later described to police as an anger-fueled "blackout," AP reported.

The "secret" clearance that he was granted lasts 10 years and was in effect during two other incidents.

In 2008, Alexis was cited for disorderly conduct in Georgia when he was kicked out of a nightclub for damaging property. In 2010, he was arrested for discharging a firearm in his apartment building, but was later released when police determined the gun fired accidentally while being cleaned.

He was honorably discharged from the US Navy Reserve in 2011, despite at least eight misconduct charges.

The Experts Inc. said the company used an outside service to perform a background check on Alexis upon his hiring, which only turned up a minor traffic violation.

Alexis had been treated since August by the Veterans Administration for mental illness, AP reported.

According to a report which was filed in August by Newport police and sent to the Rhode Island Naval Station, Alexis was involved in an argument with another individual prior to boarding a flight originating in Virginia. Alexis later said he believed the individual had sent three other people to follow and harass him, AP reported. Alexis said he heard voices speaking to him through a wall at a hotel in Rhode Island, leading him to change hotels twice. However, the voices still followed him and Alexis feared they would harm him.

According to the police report, Alexis believed the individuals trailing him were using "some sort of microwave machine" to emit vibrations through the ceiling, penetrating his body and preventing him from falling asleep.
You can share this story on social media: