Washington Navy Yard security weakened through cost-saving measures - report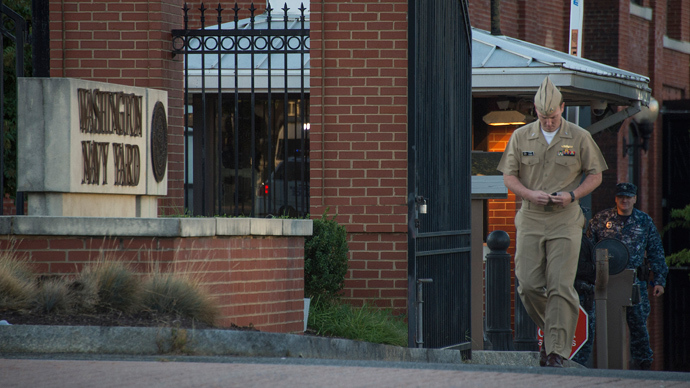 With questions emerging about how Aaron Alexis, who killed 12 people at the DС Navy Yard, was overlooked by the access restriction system, it appears that the Navy had security lapses as it was trying to reduce costs.
"As a result, at least 52 convicted felons received routine unauthorized installation access, placing military personnel at increased security risk," TIME reported, citing federal official, who had access the Department of Defense Inspector General's report. 

The audit, intended to determine if "the Navy Commercial Access Control System [NCACS] is mitigating access-control risks to Navy installations," began in September 2012.  The results were expected sometime in September and now ironically coincide with the attack which left 12 people dead and another eight injured.

It was reported that Alexis had a secret clearance and a common access card (CAC).
Alexis's security clearance was updated in July and approved by military personnel. He had a government access security card that would have allowed him entry into the Navy Yard and other military facilities.

At the same time, regardless of the official report, McClatchy Washington Bureau reporter James Rosen found out that the Washington Navy Yard has had a history of major security lapses. Previous reports cited poor entrance controls, video dead spots, inadequate lighting, malfunctioning alarms and other problems.

The article cites James Atkinson, a former military intelligence officer who now heads Granite Island Group in Gloucester, Mass. According to Atkinson, the Navy hired his surveillance security firm in 2009 to test newly installed electronic security gates and other access controls inside Building 197, which houses the Naval Sea Systems Command headquarters.

One the tests by Atkinson's firm revealed that a tamper sensor was not working because of a design defect, doors could be jammed open with pieces of cardboard, "crisscrossed" video cameras were pointed at one another. The facility had too few cameras and bad lighting at night.

"The security there is extraordinarily poor," Atkinson told McClatchy Washington Bureau. "They need more cameras, better door security, better lighting. The access controls were appalling. The Washington Navy Yard has security that is below the level of security you see at Harvard or MIT (the Massachusetts Institute of Technology) or Boston University or any other major campus."

The report also cites an employee, who asked not to be identified, complaining about weak security checks at the facility.

"They'll check your badge and they'll check your car to make sure it has a Naval District of Washington current sticker, but you can drive through the base with a bazooka in your trunk and they wouldn't know," the employee said. "You can drive in with a ham sandwich, a banana and a pistol in your lunch bag, and they don't check."

Meanwhile, while US authorities are still trying to piece together exactly who Aaron Alexis was, it appears that since August he had been undergoing treatment by the Veterans Administration for serious mental illness. He had apparently been "hearing voices", suffered from paranoia and a sleep disorder, AP reported citing its sources.

He had run-ins with the law over shooting incidents in 2004 and 2010 in Fort Worth and Seattle and had been arrested at least twice in the past. He was honorably discharged from the US Navy reserve in 2011 despite a pattern of misconduct, Reuters reported.

You can share this story on social media: