Rand Paul slams Rubio's immigration plan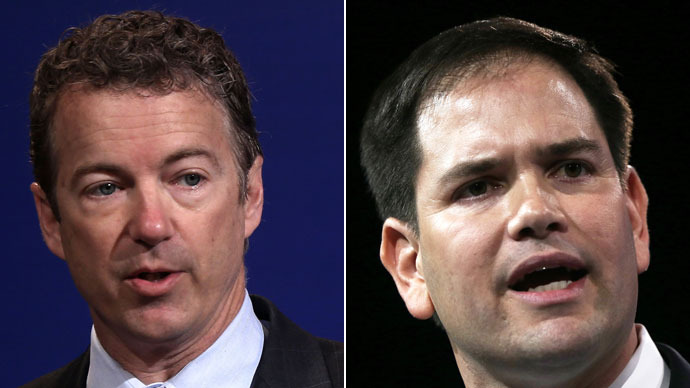 Republican senator Marco Rubio has been one of the most active proponents of an immigration reform act, but now another conservative lawmaker — Rand Paul — is harshly critiquing the bill.
When Sen. Rubio (R-Florida) first endorsed the bipartisan immigration reform bill being touted by the so-called congressional "Gang of Eight," the up-and-coming lawmaker's approval was signaled as a sign that conservative colleagues on Capitol Hill would soon follow suit. Rubio has since warned that the bill isn't guaranteed to get all the way to US President Barack Obama's desk, though, and the immigration act has found an opponent in Sen. Rand Paul (R-Kentucky).
Speaking before the Senate Homeland Security Committee Hearing on Tuesday this week, Sen. Paul said that not only does he have his doubts the bill will pass but that he's concerned over with what the act would actually do.
"It may pass the Senate [but] may not pass the House," said the senator. "I want to be constructive in making the bill strong enough that conservatives, myself included, conservative Republicans in the House will vote for this because I think immigration reform is something we should do."
"In this bill I am worried, though, and this is similar to what Senator [Ron] Johnson (R-Wisconin) said, that it says, well, you have to have a plan to build a fence, but you don't have to build a fence," he continued. "And if you don't have a plan to build a fence, then you get a commission. I don't know what happens if the commission doesn't do anything. That's the story of Washington around here."
Sen. Paul previously lashed out at fellow lawmakers for failing to read the bills they're elected to vote on, insisting "Congress has a 10 percent approval rating and one of the reasons is that we don't even obey our own rules." On Tuesday, though, he condemned the latest efforts at immigration reform as being all too like another controversial bill that was disputed in Congress.
"To me, it's a little bit like Obamacare," Paul said at this week's hearing. "I hate to bring that up, but 1,800 references to the secretary shall at a later date decide things. We don't write bills around here. We should write the bill. We should write the plan. We should do these things to secure the border whether it be fence, entry, exit, we should write it, not delegate it. What's going to happen in five years if they don't do their job -- maybe not even them, maybe somebody else who doesn't do their job in five years, and the border is not secured? We will be blamed for the next 10 million that come here illegally."
Just days before those remarks, the immigration effort came under fire over other concerns. A Heritage Foundation study released on Monday accused the Gang of Eight's efforts as costing a minimum of $6.3 trillion over the lifetime of the estimated 11 million aliens currently residing in the US illegally.
According to the New York Times, Heritage alleged that the bill, if enacted, would not consider the comparably meager $3.1 trillion in taxes those immigrants would pay under a path-to-citizenship plan, all the while receiving an estimated $9.4 trillion in government benefits and services.
"Heritage, I think, is the king of dynamic scoring, and in many respects we've advocated for dynamic scoring here because of the positions that they've taken," Rubio, a chief author of the legislation, told the Times. "They are the only group that's looked at this issue and reached the conclusion they've reached. Everybody else who has analyzed immigration reform understands that if you do it, and we do it right, it will be a net positive for our economy."
One week earlier, Sen. Rubio told radio host Mike Gallagher, "The bill that's in place right now probably can't pass the House." Foreshadowing Sen. Paul's warning this week, Rubio said at the time of the bill he co-wrote that "It will have to be adjusted because people are very suspicious about the willingness of the government to enforce the laws now."
Both Rubio and Paul were at one time considered likely running mates for former Massachusetts Governor Mitt Romney during his unsuccessful bid for president in 2012. Both lawmakers were also elected to respond to Pres. Obama's 2013 State of the Union: Rubio on behalf of the GOP, and Paul as a representative of the Tea Party faction. They have since each been rumored to be potential Republican Party nominee for a White House run in the next presidential election.
You can share this story on social media: