Quarter of Mississippians struggled to afford food last year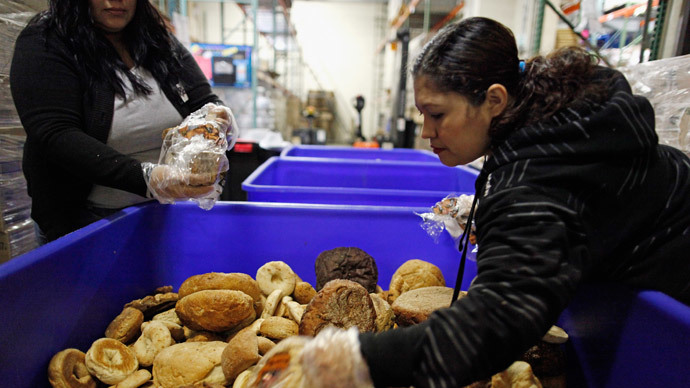 About one quarter of Mississippi's residents struggled to put food on the table last year, according to a new Gallup report.
The results marked the sixth straight year Mississippi topped the list of states in which residents were most likely to report their battle with affording food, with 25.1 percent of respondents acknowledging they could not afford to provide for themselves or their families at least once in 2013.
As Gallup noted, however, more than 20 percent of residents in several states responded with the same struggles. Right behind Mississippi were West Virginia and Louisiana, both of which had 23 percent of its residents say they could not afford food at one point last year.
Nationwide, meanwhile, the report found that about 18.9 percent of Americans struggled to afford food in 2013, an increase over 2012's 18.2 percent.
While the number of hungry residents ticked upwards, Gallup also suggested that rising obesity rates in the US could also be connected to problems with food affordability. According to a separate Gallup report, the nationwide obesity rate in 2013 was 27.1 percent, almost a full percentage point higher than the previous year. Topping the list of most obese states was also Mississippi, with a 35.4 percent rate.
According to the Huffington Post, Ross Fraser of charity Feeding America said part of the reason you see obesity rates rise among those who have trouble purchasing food is that they simply cannot afford to buy healthy ingredients. In Mississippi, the website states the median income is less than $40,000.
"The lack of healthy food … is one of the reasons you have very poor people who are obese. It is because they're not able to afford nutritious and high protein food," Fraser said.
As RT has reported in the past, the minimum wage debate in the US has picked up steam recently, particularly among fast food employees who claim they imply do not make enough to keep up with inflation and increased costs of living. President Obama has come out in support of raising the minimum wage to $10.10 an hour, but it's unclear whether the proposal has enough support in Congress to pass.
The Gallup data also comes as cuts to the Supplemental Nutrition Assistance Program (SNAP) are scheduled to take effect, shrinking food stamp benefits for 850,000 households by $90 a month. According to ThinkProgress, some states are moving to cancel out these benefit cuts, but it remains to be seen how many will do so.
In Mississippi, residents also have to jump through more obstacles to receive SNAP benefits, and even then local residents receive fewer dollars than in other states. Meanwhile, food banks like Feeding America don't have as many resources in the state to satisfy the increased number of people going to food kitchens.
"In a state like Mississippi, it's a sparsely populated state," Fraser said to the Huffington Post. "You don't have a lot of wealth to prop up food banks or any other kind of organizations that help low-income people."