Obama to announce minimum wage hike and more during State of the Union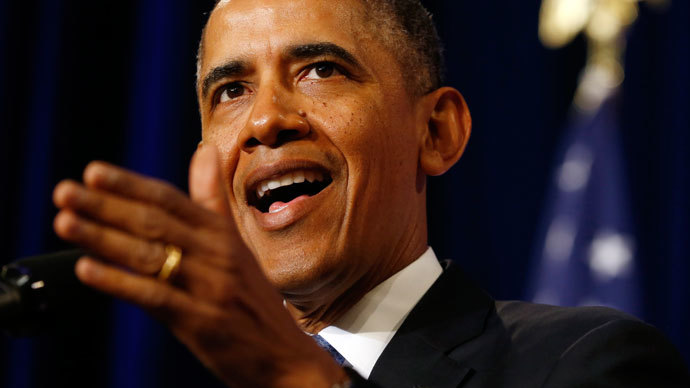 United States President Barack Obama will announce an executive order that raises the minimum wage for federal contractors during his State of the Union address on Tuesday, one of numerous unilateral actions he is expected to take during the next year.
According to multiple reports, Pres. Obama is expected to announce a wage hike from the current $7.25 to $10.10 an hour for all workers under federal contracts, including construction workers, maintenance employees, those serving the military and more.
"You can be sure that the president fully intends to use his executive authority to use the unique powers of the office to make progress on economic opportunity, to make progress in the areas that he believes are so important to further economic growth and further job creation," White House Press Secretary Jay Carney said on Monday.
Under the executive order, the wage increase will apply only to future and possibly renewed federal contracts, meaning that the vast majority of current federal workers won't see their pay rise just yet. According to the Economic Policy Institute, the White House believes the new policy could benefit up to 250,000 people.
"It's not going to have the same impact that Congress increasing the federal minimum wage for all workers would have, and because it only applies to new contracts or contracts that are renegotiated, it may take a little while before current employees of federal contractors see the increase in their pay," David Cooper, an economic analyst at the EPI, told USA Today.
Obama's executive order is partly intended to pressure Congress to raise the minimum wage for all workers in the United States. Obama had come out in favor of a wage increase to $9-an-hour in the past, but efforts by Democrats to pass such legislation have been stymied by Republicans who believe it will negatively affect job creation and burden businesses.
The move also comes as the president looks for ways to enact parts of his agenda without relying on Congress to do so. Despite public support for policies such as immigration reform and new gun control measures in the wake of the Sandy Hook Elementary School massacre and other shootings, Obama was unable to shepherd any bills into law over the course of 2013. With congressional midterm elections looming this year, Obama is looking to move the needle individually on as many issues as possible.
Another area in which Obama is expected to work around Congress is on climate change, where the Environmental Protection Agency is currently toiling away on guidelines that would curb greenhouse gas emissions from US power plants in spite of conservative opposition. According to the Associated Press, Obama is also expected to announce executive action on job training and retirement security, as well as detail action that would help the long-term unemployed find work.
"It's not a question of looking at Congress," White House chief of staff Denis McDonough said on "CBS This Morning" on Tuesday. "As we sit here and try to make sure there's access to good jobs, we're going to roll out on our own. Congress is slow to action and we're not going to wait for that."
Still, Obama isn't expected to completely set legislators aside. In addition to pushing for a national minimum wage hike, the president is expected to renew his calls for congressional action on immigration reform, voice his support for expanded pre-school education programs and propose tax reforms that would cut the corporate tax rate in exchange for infrastructure spending and other investments.
Obama's decision to take action without Congressional approval has been met with criticism from his opponents across the aisle, however, who believe he should continue to work with lawmakers rather than expand the boundaries of executive power.
"Ronald Reagan didn't think that, and Bill Clinton didn't think that," Senate Minority Leader Mitch McConnell (R-Kentucky) said on "Fox News Sunday," according to the New York Times. "Frequently, times of divided government are quite good times in terms of achieving things for the American people."
Obama will deliver the State of the Union address Tuesday at 9 p.m. Eastern Time.
You can share this story on social media: