Fast-food protests in 30 cities across US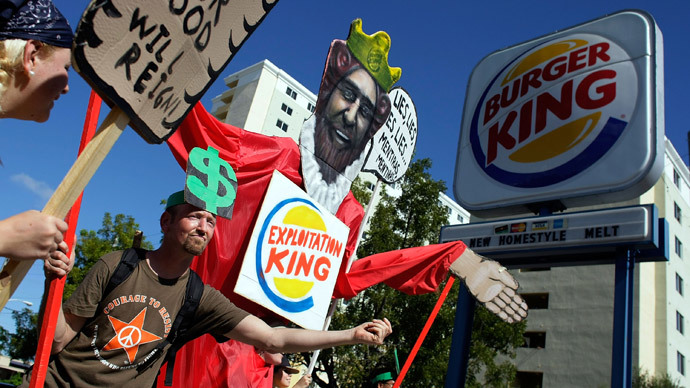 Supporters of a minimum wage hike for fast-food employees protested in about 30 US cities on Tuesday, as they hoped to highlight what they see as wage theft by restaurants.
The protests were scheduled across numerous states and in cities such as Detroit, Greensboro, Memphis, Milwaukee, New York, and Sacramento. The exact turnout was not immediately clear.
In New York, some 50 protesters walked into a McDonald's location across from the Empire State Building. The protesters chanted for a few minutes before being kicked out by police, reported the AP.
Wage theft has got to go! @fightforphilly@fightfor15@15nowPhilly workers marching up broad to @mcdonaldspic.twitter.com/YTFupOuHyM

— 15nowPhilly (@15nowPhilly) March 18, 2014
Just like last year's protests – which saw fast-food employees walk out from their job in approximately 100 cities – workers and their supporters advocated for a minimum wage hike from the current $7.25 an hour to $15.
At $8.90 an hour, the median wage for fast-food employees is a little higher than the federal minimum wage, but supporters say it does not amount to much. Many employees argue that with the federal minimum wage stagnant since 2009, their current pay is not nearly enough to cope with rising prices due to inflation and increased cost of living.
According to the Associated Press, the protests also come about a week after lawsuits were filed against McDonald's in California, Michigan, and New York. These suits accused the company of illegally stealing wages from its employees through numerous means, including taking the cost of workers' uniforms out of their paychecks.
Tuesday's scheduled protests were largely directed at McDonald's locations, though organizers said other fast-food employees will participate.
"The lawsuits that were filed last week put McDonald's on notice that fast-food workers are aware that they're getting their money stolen," Kendall Fells of the Service Employees International Union said to the AP.
#Memphis McDonald's workers took part in today's nationwide protest against alleged wage theft http://t.co/W08Qy2QtNNpic.twitter.com/Q1kjRiNnT9

— The Daily News (@memphisdaily) March 18, 2014
For its part, McDonald's said it will look into the claims made in the suits and do what's necessary to resolve the issue.
As RT has reported in the past, McDonald's has faced repeated backlash over its treatment of employees and for the advice it has given them regarding how to budget and save money. Its recommendations – through the now defunct McRsource website – have ranged from singing songs to lower blood pressure to selling unwanted possessions on eBay.
The push to raise wages for fast-food employees also comes alongside efforts to raise the minimum wage on a nationwide level. Although President Barack Obama has not come out in favor of the $15 wage protesters are demanding, he has stated his support for raising hourly pay to $10.10 an hour – approximately $21,000 a year. With Republicans generally opposed to raising pay, however, efforts to translate Democratic support into law face an uphill struggle in Congress.
Kicking off the march against #WageTheft in KC! #StandUpKC#FightFor15#LowPayIsNotOkpic.twitter.com/R9ZR3xlhEI

— Stand Up KC (@standup_kc) March 18, 2014