'Can't survive on $7.25!' Fast-food workers protest marches hit US (PHOTOS)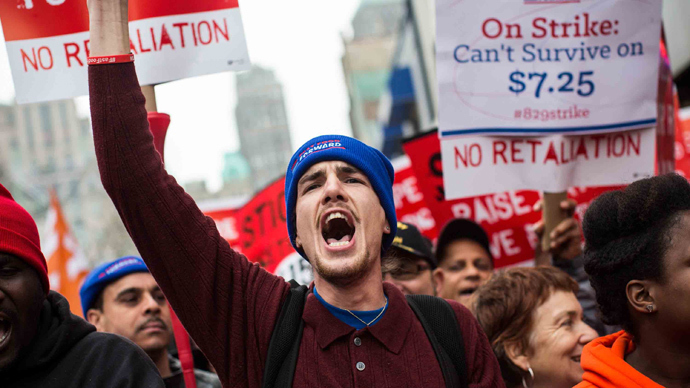 Fast-food workers staged a protest throughout the US on Thursday in campaign aimed at raising the federal minimum wage. The low-paid laborers are struggling to make ends meet and have to rely on public aid for survival.
The protest is the latest in a series organized by groups like Fast Food Forward, Fight for 15 and Low Pay is Not OK, which are supported by the labor union giant Service Employees International Union. The groups had to compensate the protesters for the day off they took, because many couldn't afford just to lose it.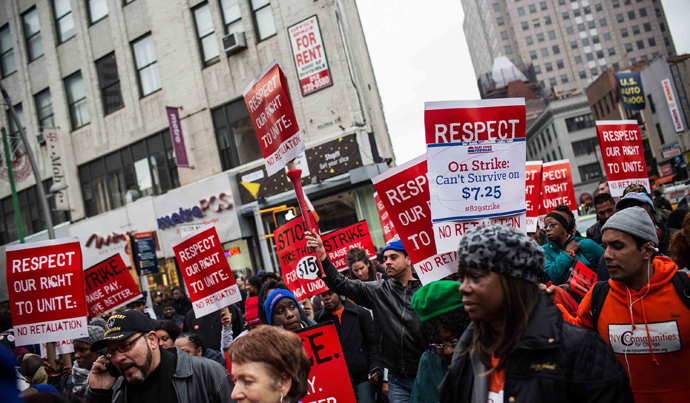 Fast-food industry is notoriously difficult to unionize due to high turnover rates, but the organization representing some 2 million workers in healthcare, janitorial and other industries, is trying to put the workers' low wages in the public spotlight.
The current federal minimum wage of $7.25 per hour has not been raised since 2009 and is lagging behind inflation. The protesters seek to more than double the figure to $15, although at the moment it's more a long-term goal than an immediate change.
In Chicago, about 100 workers marched along Michigan Avenue with a large costumed Grinch, chanting: "We can't survive on $7.25."
#fastfoodstrikes in over 100 cities across US. Keep it up! Solidarity 2 all strikers from #fightfor15 in Chicago pic.twitter.com/xHoKMtil37

— Fight For 15 (@fightfor15) December 6, 2013
In Washington, workers at McDonald's inside the Smithsonian's National Air and Space Museum and other fast food restaurants walked off the job.
People were also demonstrating in Atlanta, New York City, Detroit and dozens of other American cities.
Fast food jobs have long been seen as meant for young people seeking extra pocket money. Industry groups describe the restaurants as entry points into the workforce, which offer opportunities to learn and grow.
That image however is not accurate. Today's fast food worker is typically over 20 and raising a child, according to a recent study by the University of Illinois and the University of California. Some 68 percent of them are prime providers in their families while 52 percent rely on at least one form of public assistance.
"I love my job, I love the people I work with, but the $7.70 I make does not cut it," said Kizzy Sanders, a 30-year-old mother of three, who works at a Popeye's restaurant in Kansas City. "It doesn't pay my bills. I can't buy my kids anything for Christmas. I can't even celebrate Christmas."
March is on the move again, with clowns in tow #FastFoodStrikes & @our_dc representing. pic.twitter.com/0FmapUnjfk

— alexis goldstein (@alexisgoldstein) December 5, 2013
The industry says raising wages in the current competitive environment would force the restaurants to raise prices on the food they serve. It would in turn make many of them unprofitable and drive them out of business along with the jobs they provide.
"A $15 an hour minimum wage as a starting wage in the restaurant industry is just really not realistic in today's economy," said Scott DeFife, from the National Restaurant Association, a fast-food lobbying group.
The organization dismissed the protest as a "campaign engineered by national labor groups" and claimed that "relatively few" restaurant employees have participated in past actions.
Apparently the industry's answer to the perils of their employees is giving them advice on how to live in poverty. McDonald's drew public criticism in the past few months over telling its workers to break their food in small pieces so as not to feel hungry and opt for food stamps.
Young fast food worker shares his struggle to afford college & help support his family. #fastfoodstrikespic.twitter.com/CeGMZAuxdq

— MA Jobs with Justice (@MassJwJ) December 5, 2013
Still support for raising the minimum wages is growing. California, Connecticut and Rhode Island raised their minimum wages this year. The issue was also raised lately by President Barack Obama, who said in an economic policy speech Wednesday, "I'm going to keep pushing until we get a higher minimum wage for hardworking Americans across the entire country."
But the prospects of a bill raising minimum wage through the federal legislature are currently slim. Senate Democrat Majority Leader Harry Reid has promised a vote on a hike by the end of the year. But the measure is expected to be blocked in the House, where Republican leaders oppose it.
You can share this story on social media: