McDonald's company help line to broke worker: 'Go on food stamps'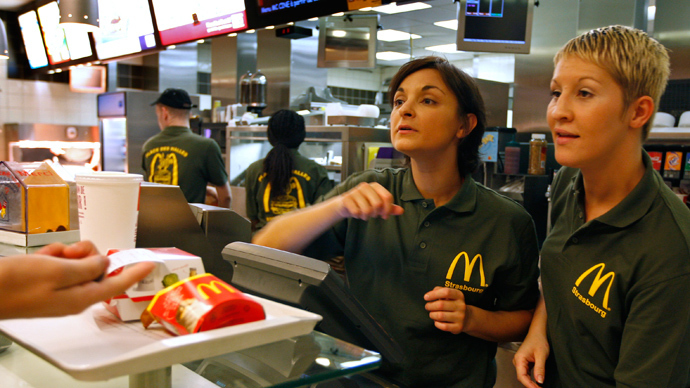 McDonald's workers who are unable to pay their bills or stay above the poverty line should find help from food pantries or enlist in government benefit programs instead of seeking higher wages, according to a company resource line meant to help employees.
Nancy Salgado has worked for the fast-food corporation for over 10 years yet still earns $8.25 an hour, barely more than the $7.25 federal minimum wage. With help from the worker's rights group Low Pay Is Not Ok, she phoned the company's employee hotline, known as McResource, attempting to find some answers on how to improve her situation. 
A recording of the call was made available to CNN, which reported that Salgado asked the helpline operator multiple questions regarding how McDonalds would help her pay her heating bill, buy groceries, and whether she could afford to help pay for her sister's medical treatment. 
Despite never asking how much money Salgado earned per hour or asking how many hours a week she worked, the McDonalds representative said she "definitely should be able to qualify for both food stamps and heating assistance." 
The representative then said she would email Salgado phone numbers and contact information for food pantries and other public health programs in Chicago, Illinois, where Salgado was calling from. 
"We can be a good program," the operator said. "We can do a lot of the leg work that takes a lot of the stresses off of you making a million phone calls trying to find services."
Perhaps even more shocking is that not all McDonald's employees are guaranteed access to the would-be help line. Franchise owners must pay a fee for their employees to use McResource and Salgado's restaurant, for example, is among the many Chicago stores not afforded that privilege. 
Salgado, 26-year-old single mother who has said she is rarely allowed to work more than 30 hours a week, is the same woman who was arrested earlier this month. She interrupted McDonald's Corporation President Jeff Stratton when he was speaking at the Union League Club of Chicago on October 11. 
"Do you think this is fair, that I have to be making $8.25 [per hour] when I've worked for McDonald's for years?" she shouted. "The thing is that I need a raise. But you're not helping your employees. How is this possible?" 
She said at the time that she expected McDonald's to retaliate in some way but was apparently not swayed from calling McResource. Salgado told the representative she was recording the call so her sister could listen later.
"This video is not an accurate portrayal of the resource line as this is very obviously an edited video," McDonald's said in a statement. "The fact is that the McResource line is intended to be a free, confidential service to help employees and their families get answers to a variety of questions or provide resources on a variety of topics including housing, child care, transportation, grief, elder care, education and more." 
The publication of the call's audio comes just days after a new report indicated that over half of fast-food works in the US rely on public assistance to supplement their paychecks, costing American taxpayers an estimated $7 billion every year. 
The average American fast food worker earns $8.69 an hour and regularly works less than 40 hours a week, qualifying them for a variety of government benefits. Fifty-two percent of families that include a fast food worker receive food stamps, Medicaid, or are eligible for the Earned Income Tax Credit and Temporary Assistance for Needy Families. Compare that sum with the 25 percent of families eligible for those assistance programs from the overall workforce.
Researchers from the University of California at Berkeley and the University of Illinois at Urbana-Champaign determined that "non-managerial" employees – such as cashiers, cooks, servers, and others – are twice as likely to need financial help. They deemed it "staggering" how government assistance programs effectively pay costs that major food chains refuse to.
You can share this story on social media: