Mom fined $2.5k for toddler's 'public' urination
Published time: 9 Nov, 2012 19:16
Edited time: 9 Nov, 2012 23:16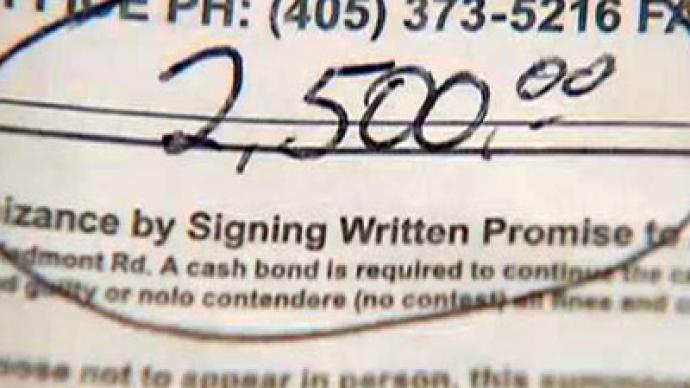 If you're looking for a way to traumatize your potty-training toddler, here's a good one: the mother of a 3-year-old Oklahoma boy is stuck with a $2,500 fine after cops caught her young son urinating on their own lawn.
Ashley Warden of rural Piedmont, OK says a police officer pulled up in front of their 2.5 acre property recently and wrote her a ticket for catching the child urinating on the family's property.
"Dillan pulled down his pants to pee outside. I guess and the cop pulled up and asked for my license and told me he was going to give me a ticket for public urination," Warden recalls to KWTV News.
The boy's grandmother, Jennifer Warden, says her plea with the police officer to reconsider was ignored.
"I said really, he is 3 years old, and he said it doesn't matter," Jennifer Warden, tells KWTV. "[He said] It is public urination. I said we are on our property and he said it's in public view."
The Warden family attempted to file a complaint with the Piedmont Police Department but it was rejected by the force. Unwilling to fork over $2,500 grand to pay the fine, the family originally said they planned on going to court to fight the ticket and hopefully have something done about the office.
"The outrage is not just the fact that it's a 3-year-old but many people see it as just an abuse of power, the officer was just writing a ticket because he could instead of handling it in a better way," Warden tells ABC News.
When the family went public with the alleged abuse, the response was overwhelming, they say, citing thousands of comments posted on Internet forums and write-ups from the international media. Before long, that backlash prompted the police to issue an apology. Piedmont Police Chief Alex Oblein came to the Warden home and said he was sorry, the family tells ABC, and even offered to drop the charges. "We told him we appreciated him coming and for all his help. He didn't have to come by the house. That was nice of him to do that," Warden says.
ABC attempted to reach the cop that issued the ticket, Office Ken Qualls, but he did not answer requests for comments.
"I don't know what's going to happen with him [Qualls] and I don't know if he's going to retaliate in some way," Warden tells ABC. "I would think not because the story has been so public but I kind of worry that it makes the police department look bad and they know all the vehicles we drive and where we live."