Cops will hand-out Doritos at Washington's first post-legalization Hempfest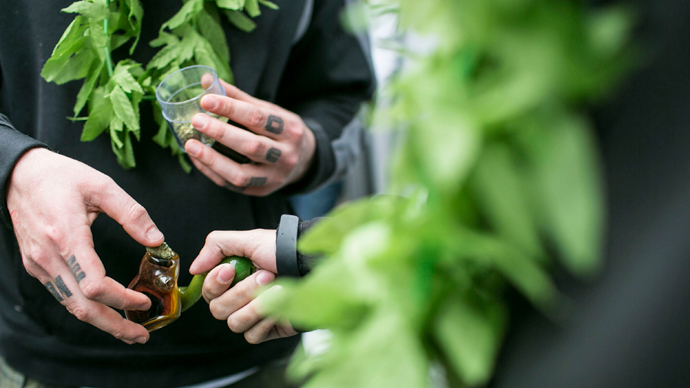 Rather than arresting marijuana users, police officers will be giving them Doritos at this year's "Hempfest," an annual celebration that takes place in Washington state, where pot is now legalized for use by adults over the age of 21.
Police will distribute information about the state's new legalization attached to a bag of chips, thereby satisfying pot smokers' "munchies" while also explaining the law. The labels, which are attached to about 1,000 bags of Doritos, encourage pot users to check out a guide on the police department's website, titled "Marijwhatnow? A Guide to Legal Marijuana Use in Seattle."
"Distributing salty snacks at a festival celebrating hemp, I think, is deliberately ironic enough that people will accept them in good humor," police spokesman Sergeant Sean Whitcomb told The Stranger. "We want to make sure people learn the rules and that they respect the vote."
Tens of thousands of people are expected to show up at this summer's "protestival" in Seattle, which has advocated for the decriminalization of marijuana for 22 years. The first Hempfest, held in 1991, was a one-day gathering of approximately 500 stoners. In recent years, the event has turned into a weekend gathering featuring concerts, rallies and a fair with more than 250,000 attendees, some of which are high-profile celebrities and politicians. Seattle's Hempfest is currently the largest protest of cannabis laws in the world.
Having won legalization at the state level, this year's speakers will focus on the reform of federal marijuana laws instead. Celebrating with police instead of running from them, attendance at this year's Hempfest, which kicks off Aug. 16, could reach an all-time high. Organizers expect as many as 85,000 people to show up each day at the three-day event.
"I think it's going to be a lot of fun," Sgt. Whitcomb told the Associated Press. "It's meant to be ironic. The idea of police passing out Doritos at a festival that celebrates pot, we're sure, is going to generate some buzz."
Hempfest executive director Vivian McPeak told AP that this year's Hempfest will partially be a victory celebration. There will be more than 100 speakers, 117 musical acts and 400 vendors offering information, multi-colored glassware, artwork and food. Sgt Whitcomb is one of the scheduled speakers at the three-day event.
The police sergeant wants smokers to be aware that adults can possess up to an ounce of marijuana, but can't sell or give it away. Driving under the influence of marijuana and public use of the drug is still illegal. Although police can issue citations for public use of marijuana, officers have instead been warning people about the rules and asked violators to extinguish their pot.
"We're there to let people know what the rules are," Whitcomb told NBC. "Not everybody will get a bag [of chips], but hopefully people will talk about what's allowed and what's not."
Admission to Hempfest is free, but organizers are asking for $10 donations to offset the $800,000 cost of running the festival.