Police arrest protesters blocking LaGuardia airport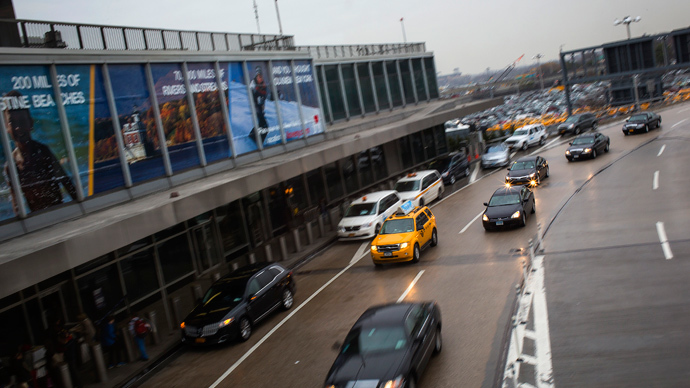 Police officers began arresting demonstrators outside of LaGuardia International Airport near New York City Monday as Port Authority employees and allies rallied for better working conditions.
During a scheduled march early that afternoon, protesters assembled en masse on the Ninety-Fourth Street Bridge in Flushing, NY and began "occupying" the roadway.
Marching for airport worker justice at LaGuardia airport #MLK: our day! @32BJ_SEIUpic.twitter.com/0fMfoFrYWy

— Ritchie Torres (@RitchieTorres) January 20, 2014
Police were reportedly arresting protesters as of 1 p.m. local time after those on the bridge failed to heed orders to disperse.
The act of civil disobedience was waged on the federal holiday held in honor of slain civil rights leader Dr. Martin Luther King, Jr., who advocated extensively for workers' rights during his life.
Arrests have begun at airport worker action outside of LaGuardia airport. pic.twitter.com/3FGG0NEhhK

— Jenna Pope (@BatmanWI) January 20, 2014
Employees of the Port Authority of New York and New Jersey — the body that operates LaGuardia and other major transportation hubs across the region — unsuccessfully asked that Martin Luther King Day be treated as a paid holiday, not unlike many other government-affiliated agencies. When their requests were ignored, they planned Monday's march in response in order to raise awareness of their employer's practices and to have a platform to protest for better wages.
One of those on the scene, Jenna Pope, tweeted that hundreds of people had marched to the bridge outside of LaGuardia and then sat down in the street in defiance of the police's orders to not hinder road traffic.
Others on the bridge reported that airport employees were among those being arrested during the peaceful protest. Hector Figuero, the president of 32BJ Service Employees International Union, the largest property services union in the country, was among those reportedly detained Monday afternoon, as was a United States congressman, Rep. Charles Rangel (D-New York).
Among those arrested today standing up in support of airport workers @LGA was congressman @cbrangel#MLKDaypic.twitter.com/QwEoeFZt7v

— Jeff Rae (@jeffrae) January 20, 2014
JFK Airport security officer and Port Authority employee Prince Jackson told Amsterdam News during a workers' rights rally earlier this month that Dr. King demonstrated in his lifetime to assist Americans that made even more detestable wages that what he's accustomed to today.
"Dr. King died supporting sanitation workers who were working under deplorable conditions and making what today would be $11.41 per hour," he told the paper. "Forty-six years after Dr. King's death, I earn $8 an hour. Most airport workers earn just $8 per hour. We also work under deplorable conditions."
Meanwhile, New York Governor Andrew Cuomo recently announced the state will oversee a $3.6 billion construction project to renovate LaGuardia Airport. Those who maintain the facility, however, don't expect to see much of that.
You can share this story on social media: