Pennsylvania mass school stabbing leaves up to 22 injured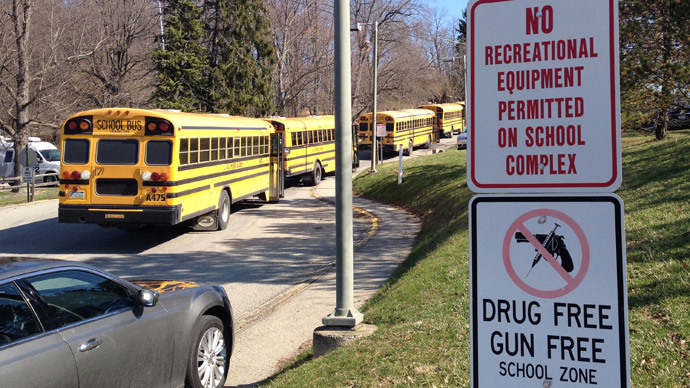 Up to 22 people were stabbed at a high school near Pittsburgh, Pennsylvania, with some victims having suffered serious injuries. The suspect, a male student, was detained by staff at the school.
Four students out of the 19 injured on Wednesday morning at Franklin Regional High School in Murrysville were in a serious condition, Dan Stevens of Westmoreland Emergency Management told CBS Pittsburgh.
By early afternoon, police told the Associated Press that a 16-year-old, later identified as Alex Hribal, armed with two knives was thought to be responsible for the rampage and had been brought into custody after being subdued by a campus cop and the school's assistant principal.
Hribal, who was being held without bail, will be charged as an adult and faces four counts of attempted criminal homicide and 21 counts of aggravated assault. According to witnesses he said he "he wanted to die" at the time of his arrest, reported WTAE.
Not all of the 20 people (19 of whom were students) injured were cut by the student's knives, though most were, Stevens told the CBS affiliate. Some suffered scrapes and cuts in the mayhem that ensued, he said.
Although some of the wounded are in critical condition, all of them are expected to recover.
#FRHS#PrayersForFRpic.twitter.com/SFyJsyXCUN

— CO (@CJ_Owens2) April 9, 2014
It has also been reported that Hribal – thought to be in his sophomore year at the high school – was taken to a local hospital for treatment after receiving a minor injury.
Pray for my brother. He's going into surgery. #PrayforFR

— Rachel Keener (@rachelkeener_) April 9, 2014
A school resource officer called in the incident shortly after 7 am. According to WTAE, an ABC affiliate in Pittsburgh, students were panicking. Many used their cell phones to call parents and tell them what was going on. But some managed to overcome the fear and even helped their friends to survive.
One female student "saved another student's life at the scene by applying pressure," an official at Forbes Hospital told a WTAE correspondent. Eight of the attack victims have been taken to Forbes, all with chest or torso wounds.
Three air medical helicopters and dozens of ambulances were dispatched to the scene.
Parents notified about the incident were seen rushing to the area to pick up their children.
Stabbing victims taken to: -8 at Forbes -5 at UPMC East -4 at Children's -1 at UPMC Presby -1 at UPMC Mercy -1 at AGH

— Michelle Wright (@MichelleWTAE) April 9, 2014
The school posted the following message on its website: "A critical incident has occurred at the high school. All elementary schools are canceled, the middle school and high school students are secure. Additional information will be released as soon as possible. Please keep our campus clear of traffic."
Early reports of the incident said that the suspect ran through the school slashing or puncturing students with a knife or other sharp object.