Plane shame: US pilots pick the wrong airports, study finds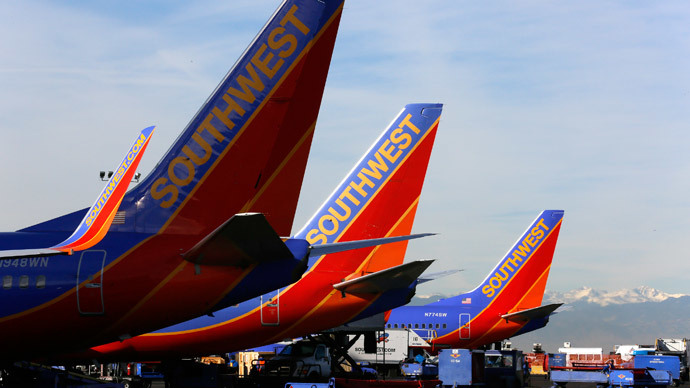 At least 150 US pilots have either landed, or begun to land at the wrong airport over the past 20 years, according to a new AP study of government safety databases and media reports since the beginning of the 1990s.
The agency calculated 35 landings and 115 "approaches or aborted landing attempts" at the wrong destinations from both NASA's Aviation Safety Reporting System (ASRS) and news media. However, many incidents go unreported, so the figure could be considerably higher. The Federal Aviation Administration declined requests to access more detailed records of every incident.
The most recent incidents to have spiked concern over the trend were the incorrect landings of a Southwest Airlines Boeing 737 in Missouri and an Atlas Air Boeing 747 freighter in Kansas. Southwest Airlines pilots narrowly missed a ravine after landing on a short runway in Hollister, Mo – they had meant to land on a runway twice-as-long at Branson airport.
AP identified one particular airport it dubbed a 'trouble spot' for baffled pilots. San Jose, California, reported six pilots attempting to dive into a landing at a joint civilian-military airport, Moffett Field, when they should have been heading for the public Mineta San Jose International Airport, about 10 miles southeast.
"This event occurs several times every winter in bad weather when we work on Runway 12," a San Jose airport tower controller declared in a November-2012 report, highlighting a recent case of an airliner making a beeline for Moffett after being told it was safe to land at San Jose. Air controllers managed to dissuade the pilot from completing the landing in time.
Navigation equipment was regularly cast aside at night upon pilots seeing runway lights, as they decided it was preferable to navigate using what they could immediately see, rather than using the proper resources.
"You've got these runway lights, and you are looking at them, and they're saying: 'Come to me, come to me. I will let you land.' They're like the sirens of the ocean," Michael Barr, a former Air Force pilot and aviation safety teacher, told AP.
San Jose is not the only 'trouble spot.' Particular areas which are prone to being picked by puzzled pilots are usually areas of the US which have airports located very close to one another, or which have similarly angled runways, for example Nashville and Smyrna in Tennessee, Tucson and Davis-Monthan Air Force Base in Arizona.
Last July, one filed report detailed how the captain of an MD-80 was heading for San Antonio International Airport when another rider in the jumpseat "shouted out that we were headed for Lackland Air Force Base." The landing had to be hastily aborted. The captain contacted the San Antonio tower to inform them of what had happened: "They did not seem too concerned… and said this happens rather frequently there," he said.
The FAA told AP that cases of wrong airport landing have been rare, with only eight by US carriers in the past decade, none of which have resulted in casualties, so aside from the mass inconvenience caused to passengers on the guilty commercial flights, the statistics could perhaps be less frightening then they initially appear.
However, a training captain at a major airline, Rory Kay, stated: "You know you pretty much have a clear shot at a couple of miles of smooth concrete…if you choose to land somewhere else, then all bets are off. There could be a bloody big hole in the middle of the runway. There could be a barrier across it. There could be vehicles working on it."
You can share this story on social media: