US approves expanded use of cell phones, electronics on planes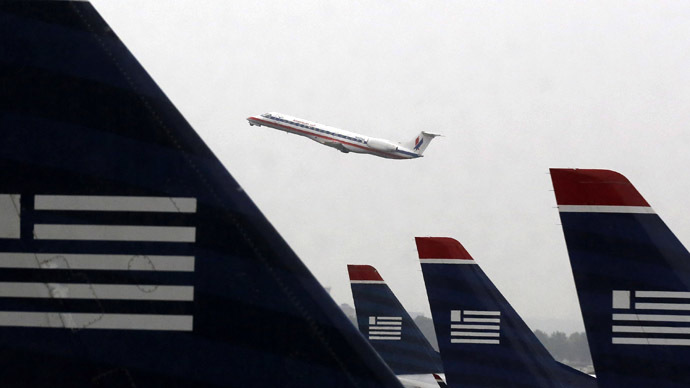 Tired of powering-down portable electronics while still on the runway? The Federal Aviation Administration has loosened restrictions on certain devices, paving the way for passengers to soon use cell phones, tablets and other gadgets from gate-to-gate.
The FAA announced on Thursday that it has approved a new set of safety rules involving when and where electronic devices can be utilized onboard airliners. Passengers will still be prohibited from making phone calls during travel and connecting to the Internet while less than 10,000 feet off from the ground, but the FAA's new rules allow for the most expansive use of electronics yet.
"We believe today's decision honors both our commitment to safety and consumer's increasing desire to use their electronic devices during all phases of their flights," Transportation Secretary Anthony Foxx said in a FAA press release.
Larger items might still need to be stowed away during take-off and while preparing to land — and devices will still be required to stay on "airplane" mode, according to the Associated Press — but passengers will no longer be told to power-down devices during departure, allowing for airline customers to continue to conduct business, play games and keep occupied throughout travel.
"These guidelines reflect input from passengers, pilots, manufacturers and flight attendants, and I look forward to seeing airlines implement these much anticipated guidelines in the near future," Foxx added in his statement.
Changes may not necessarily come right away, but the FAA says they will immediately begin providing airlines with guidance for implementation. Airline operators will have to be able to prove that onboard systems are capable of avoiding any interference that could be caused by these devices, but the FAA says they expect full implementation among airline companies in the United States allowing for passengers to use devices from "gate-to-gate" by the end of the year.
"We're pleased the FAA recognizes that an enjoyable passenger experience is not incompatible with safety and security," US Travel Association President Roger Dow said in a statement.
You can share this story on social media: