Not in (that part of) Kansas anymore: Too-big-to-leave jet mistakenly lands at tiny airport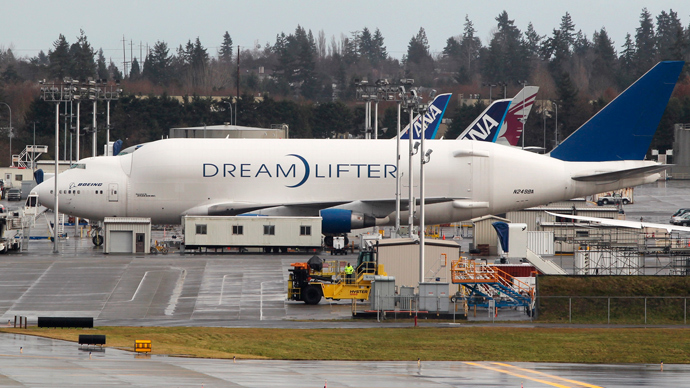 The state motto of Kansas, Ad Astra per Aspera – to the stars with difficulty – took on a whole new meaning after an Atlas Air 747 Dreamlifter landed at the wrong airport outside of Wichita. The problem: it might be too big to leave.
The heavily-modified, white and blue Atlas Air 747 Dreamlifter is a massive plane by any standards. The 235-foot-long aircraft, the world's largest cargo plane by volume according to its producer Boeing, is used to haul jet parts for other aircraft around the globe.
But while the world relies on the Dreamlifter to carry the titanic burdens that others aircraft cannot handle, it might need a little help finding its way back to the proverbial Yellow Brick Road.
On Tuesday, one such jumbo jet erroneously landed at a tiny airport just six miles northeast of the business district of Wichita, Kansas – known as "The Air Capital of the World."
Air traffic control recordings of the flight indicate the plane was cleared to land in light winds and the crew confirmed its clearance back to controllers at McConnell AFB, the Wall Street Journal reported.
Upon landing the crew sought instructions from the tower on taxiing, at which point the controllers informed them they had not landed at their intended destination, but rather at the tiny Colonel James Jabara Airport 8 miles to the north.
The airport, incidentally, is named after James "Jabby" Jabara, the United States' first flying ace. But while the airport's namesake is in honor of a man renowned for downing enemy fighters, the Dreamlifter might be grounded for another reason; the runway is too short for the aircraft to take off.
A Boeing spokesman confirmed to the Wall Street Journal in a statement that the plane had landed on the airport's 6,101-foot long runway and that "we are working to determine next steps."
A tug was brought in to turn the plane 180 degrees and Brad Christopher, the assistant director of the airport, says they hope the plane can take off around noon, local NBC affiliate Action News 41 reports.
It remains unclear why the plane's crew ended up landing at Jabara Airport, as there is no indication the plane suffered any mechanical troubles.
No injuries or property damage has been reported.

You can share this story on social media: