More than half of British pilots snooze during flights – poll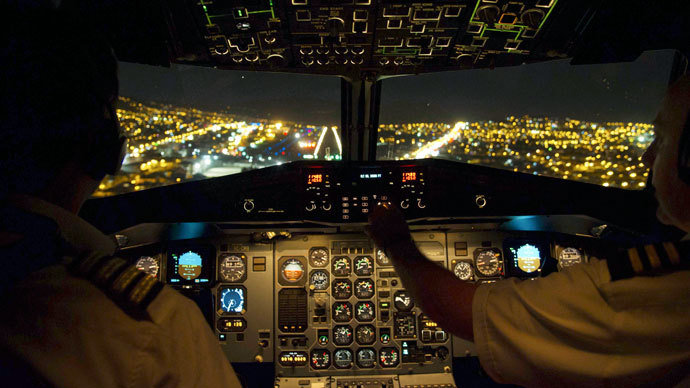 In bad news for those with a fear of flying, a poll has revealed that over half of British airline pilots admit to having nodded off in the cockpit, while one in six confessed that they had woken up to find their co-pilot sleeping as well.
The revelation comes ahead of a vote in the European Parliament that could lead to longer pilot flying hours, which the British Airline Pilots' Association (BALPA) says could have a negative impact on British flight safety.
The survey conducted among 500 pilots by pollster ComRes on behalf of BALPA found that 56 percent of pilots say they have fallen asleep during a flight.  Of those, 29 percent said they found the other co-pilot snoozing when they woke up.
Some 84 percent of respondents believe that their abilities have been compromised over the past half year by tiredness. Almost half the pilots surveyed called exhaustion the biggest threat to flight safety – "three times more than any other threat," BALPA said in a statement on its website.
Pilot fatigue has made headlines this week after media reports of an incident where both pilots of a UK 300-passenger plane fell asleep leaving the aircraft flying on autopilot at over 10,000 meters.
One of the pilots reported to the Civil Aviation Authority (CAA) that they nodded off after having only five hours' sleep in the previous two nights. News emerged of the A330 Airbus incident on August 13 only on Thursday. Details of which flight was affected were not revealed.
"This was a serious incident, but an isolated one," a CAA spokesman said in a statement that is likely to be disputed after the poll findings. "I think lessons will be learned from this. We are circulating this report within the industry. We don't know why the pilots had had so little sleep before this flight. They were taking it in turn to have rest periods, with one always checking the autopilot, and it looks as if both fell asleep at the same time."
The pilots' trade union argued that the incident came as "no surprise" and that they had repeatedly warned the CAA of the risk of both pilots falling asleep, "including in a letter to each member of the CAA board last year."
BALPA warned that the new regulations on pilot flying hours would "dilute existing high UK safety standards and introduce weaker EU rules, which lack scientific support or evidence." If changes are approved, it would mean that pilots would be allowed to land a plane after being awake for 22 hours or even more, work a maximum of 110 hours in a two-week period, as opposed to current 95-hour limit under British regulations. Also, night flying hours might be increased from 10 hours to 11 hours.
"Tiredness is already a major challenge for pilots who are deeply concerned that unscientific new EU rules will cut UK standards and lead to increased levels of tiredness, which has been shown to be a major contributory factor in air accidents," said Jim McAuslan, the general secretary of BALPA. "A European regulator that lacks scientific and medical expertise is being allowed to tear up UK flight safety rules and is being supported in this by the Conservative UK government minister and the UK regulator. Why this government is bending the knee to Europe, rather than the wisdom of the piloting profession with over 40 million flying hours experience, is as baffling as it is dangerous."
You can share this story on social media: